Here's a flavorful mixture of chicken apple sausage, vegetables and pasta for a quick family dinner meal. Try it with red pepper flakes and/or freshly grated Parmesan cheese.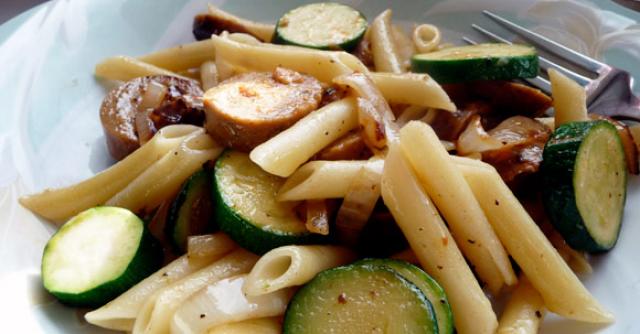 Chicken Apple Pasta Primavera
Prep Time: 25 minutes | Yield: 5 servings
Ingredients
1 box (16 ounces) pasta, any shape

1/4 cup olive oil

1/4 cup butter or margarine

1 teaspoon minced garlic

2 yellow squash, sliced or if large, cut lengthwise then slice

2 zucchini, sliced or if large, cut lengthwise then slice

4 links chicken apple sausage, diced

salt

pepper
Instructions
Prepare pasta according to package directions.
Meanwhile, heat about 1 tablespoon of oil in a large skillet and cook sausage until well browned. Remove sausage from pan and drain drippings. Or, leave drippings in the pan for more flavor.
Add remaining olive oil and butter or margarine to pan and saute garlic over medium heat until just soft, being careful not to blacken it. Add vegetables and cook until just tender.
Return sausage to pan and heat through. Add salt and pepper to taste.
Toss with pasta and serve. Or, serve on top of pasta, drizzled with oil from the pan.