This is a super easy one-dish meal we found on Pinterest from the food blog, How Sweet It Is. Here is what the author, Jessica, says about this dish:
"It really doesn't get much easier than this. Not only is the rice bake fast and easy, it is healthy and nutritious too. It's packed with protein from the yogurt, chicken, beans and cheese, and other good stuff from the brown rice."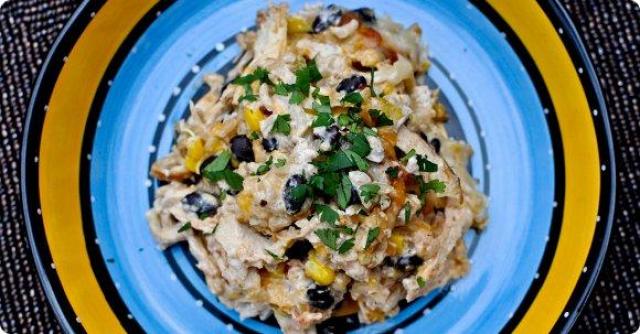 Cheesy Chicken and Rice Bake
Prep Time: 10 minutes | Cook Time: 25 minutes | Yield: 4 servings
Ingredients
2 boneless, skinless chicken breasts, grilled or broiled and shredded

4 cups cooked brown rice

3/4 cup frozen corn

1 15-ounce can black beans, drained and rinsed

1 cup plain Greek yogurt (you can use sour cream)

1 4-ounce can green chilis

1/2 cup chunky salsa

1 cup grated cheddar & Monterey jack cheese (low-fat cheese works too!) + more for topping if desired

cilantro for garnish
Instructions
Preheat oven to 350 degrees. In a large bowl, combine all ingredients except for cilantro and mix thoroughly to combine. Make sure the yogurt and cheese is stirred in throughout the entire bowl. Season with salt and pepper if desired.
Transfer to an oven-safe dish and top with extra cheese if you would like. Bake for 20-25 minutes, or until heated through. Garnish with chopped cilantro.