Burrito pie is a one-dish recipe with ground beef or ground turkey, taco seasoning, refried beans, cheese and tortillas. It will serve a large group, or half a recipe works for family dinner.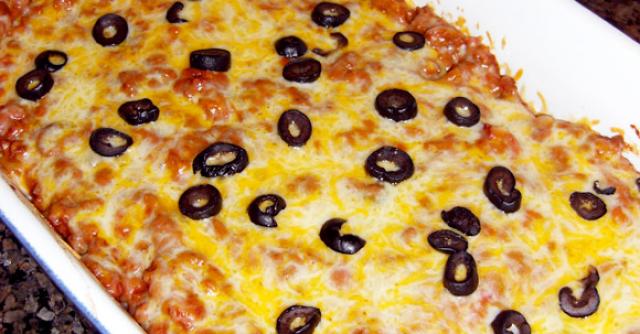 Burrito Pie
Prep Time: 30 minutes | Cook Time: 20 minutes | Yield: 16 servings
Ingredients
2 pounds ground beef or turkey

1 onion, diced

4 teaspoons minced garlic

2 packets taco seasoning (plus water per packet instructions)

1-2 cans (2 ounces each) sliced black olives, drained

1 can (4 ounce) diced green chilies

1 can (10 ounce) diced tomatoes

12 ounces taco sauce

2 cans (16 ounces each) refried beans

12 8-inch flour or corn tortillas

16 ounces shredded cheese

Optional: enchilada sauce
Instructions
Preheat oven to 350 degrees F. Meanwhile, saute meat in a large skillet for 3-5 minutes. Add onion, garlic, taco seasoning and water. Saute an additional 3-5 minutes. Drain any excess fat.
Mix in olives, chilies, tomatoes, taco sauce and refried beans. Stir mixture thoroughly, reduce heat to low, and let simmer 15-20 minutes.
Spread thin layer of meat mixture in 4-quart casserole dish (or deep 9X13 pan). Cover with layer of tortillas, then more meat, then cheese. Repeat layers until all tortillas are used, topping off with a layer of meat, enchilada sauce (if using), and then cheese.
Bake 20-30 minutes, or until cheese is slightly brown and bubbly.