This recipe was created by Peyton List, who stars as Emma Ross on the Disney Channel series, Jessie, and as Holly Hills in the Diary of a Wimpy Kid movies.
She created a beef taco with black beans, rice and mango salsa. If you wanted to make this vegetarian, it's easy to just leave out the beef and enjoy with beans alone!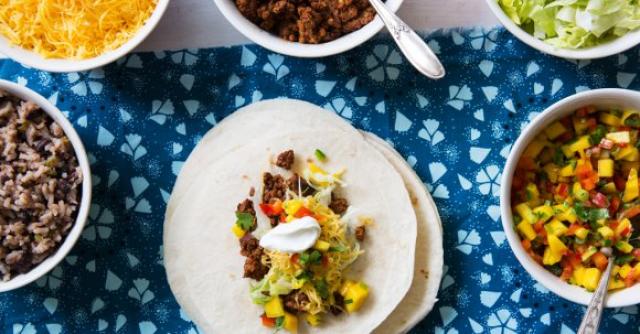 Soft Tacos (Beef or Veggie) with Mango Salsa
Prep Time: 20 minutes | Cook Time: 50 minutes | Total Time: 1 hour 10 min | Yield: 4 servings
Ingredients
SEASONED BEEF – OPTIONAL:

1 pound lean ground beef

1 tablespoon chili powder

1/4 teaspoon garlic powder

1/4 teaspoon onion powder

1/4 teaspoon crushed red pepper flakes

1/4 teaspoon dried oregano

1/4 teaspoon paprika

1 1/2 teaspoon ground cumin

MANGO SALSA:

2 cups chopped mango

1 cup chopped red bell pepper

2/3 cup chopped green onion

1/4 cup chopped cilantro

2 tablespoons fresh lime juice

1-2 tablespoons olive oil

1 medium jalapeno pepper, minced

BLACK BEANS AND RICE:

2 tablespoons olive oil

1 onion, finely diced

1 green bell pepper, seeded and finely dice

1 green bell pepper, seeded and finely diced

2 16-ounce cans black beans, drained

2 cups brown rice

4 1/2 cups water

1/2 teaspoon salt

1 teaspoon ground cumin

1/4 teaspoon smoked paprika

1 bay leaf

black pepper to taste

TOPPINGS:

Iceberg lettuce, shredded

Shredded cheddar cheese

Plain Greek yogurt whipped with a whisk, add a little lime juice to thin

1 package tortillas (try whole wheat or corn)
Instructions
Optional: Cook the ground beef until browned. Combine spices and add to beef, stir to combine, about two minutes.
Mango Salsa: Mix all ingredients together in a large bowl. Refrigerate for at least 30 minutes to allow flavors to blend. Stir salsa right before serving.
Black Beans and Rice: Heat oil over low-medium heat. Add the onion and bell peppers and cook, stirring occasionally for 5 minutes. Add the garlic and cook another 3 minutes. Add remaining ingredients and bring to a boil. Cover tightly, reduce heat to very low and cook 50-60 minutes. Discard bay leaf and fluff with fork before serving.
Arrange seasoned beef if using, black beans and rice, and mango salsa in the tortillas and serve with toppings.