This is a great weeknight meal for the family and the recipe can handle variations to suit your preferences. Some ideas: add another can of beans to make the dish go further or add leafy greens like spinach during the last few minutes of cooking.
Adapted from Not Your Mother's Slow Cooker Cookbook, by Beth Hensperger and Julie Kaufmann.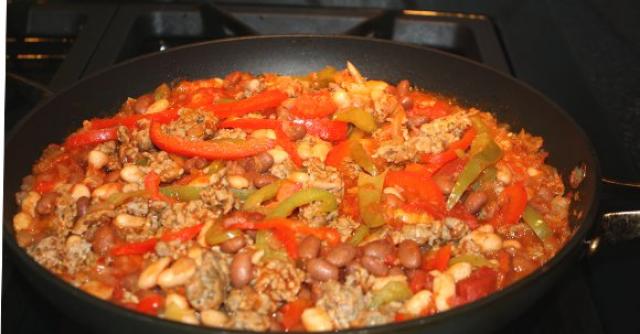 Bean and Sausage Stew
Prep Time: 30 minutes | Cook Time: 15 minutes | Yield: 6 servings
Ingredients
1 pound fresh Italian sausage (other sausages will work, too)

1/4 cup water

2 tablespoons olive oil

2 bell peppers, any color, seeded and cut into strips

1 medium yellow onion

1-2 garlic cloves, minced

1 15-ounce can cannellini beans, or other white beans, rinsed and drained

1 15-ounce can red kidney beans, rinsed and drained

1 14.5-ounce can diced tomatoes, with their juice

1/4 cup dry red wine

Salt and ground pepper to taste
Instructions
Brown the sausage in an ungreased skillet over medium heat. If the sausage is smoked or fully cooked, cut into pieces and set aside. If using fresh sausage, break up the sausage into small pieces, add the water, cover, and cook until cooked through (8 to 10 minutes). Set aside.
In the same pan, warm the oil over medium heat. Add the peppers and onion and cook, stirring, until tender. Add the garlic during the last minute or so of cooking.
Add the sausage, beans, tomatoes and their juice, and wine to the pepper-onion mixture. Cook over medium heat for a few minutes. Reduce heat to low and cook for 15 minutes more or until heated through. Season with salt and pepper and serve.
This dish can be prepared in the slow cooker as well. Complete step 1 above. For step 2, cook the pepper-onion mixture until just tender. Transfer to the slow cooker and add the sausage, beans, tomatoes and their juice, and wine. Cover and cook on HIGH for 3 to 4 hours, or LOW for 6 to 8 hours. Season with salt and pepper and serve.