Baked Penne with Ricotta and Spinach is one of the most popular recipes from the meal planning experts at Relish!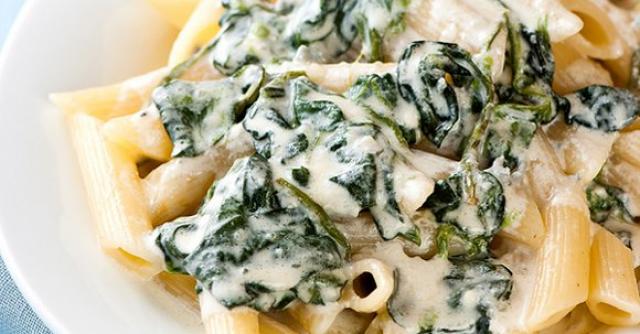 Baked Penne with Ricotta and Spinach
Prep Time: 25 minutes | Cook Time: 20 minutes | Yield: 6 servings
Ingredients
8 ounces penne pasta

2 tablespoons butter

1/2 yellow onion, chopped

1 teaspoon garlic, minced

8 ounces fresh spinach, washed, drained, and chopped

2 tablespoons all purpose flour

3/4 cup milk

1/2 cup shredded mozzarella cheese

1/2 cup ricotta cheese

1 teaspoon sugar

coarse salt and freshly ground pepper, to taste

1/2 teaspoon crushed red pepper flakes

1/2 cup shredded Parmesan cheese
Instructions
Preheat the oven to 350 degrees.
Prepare pasta according to directions. Drain and set aside. Lightly grease a baking dish.
Heat butter in a Dutch oven over medium-high heat; saute onion 5 minutes or until just brown. Add garlic, and cook about 1 minute. Reduce heat to medium-low and add spinach; cover and cook 5 minutes or until spinach is wilted, stirring occasionally.
Sprinkle spinach mixture with flour. Cook uncovered, stirring constantly, 1 minute. Gradually add milk, stirring well. Cook 5 minutes, stirring often, until thickened and smooth. Remove from heat; stir in cooked pasta, mozzarella, ricotta, sugar, salt and pepper, and red pepper. Place into prepared dish and sprinkle evenly with Parmesan.
Bake for 15 to 20 minutes.