An economical, one dish dinner recipe made with eggs, bacon, cheese and apples. For the vegetarian version, simply leave out the bacon.
From the author: "A favorite around our house, which meets all nutritional and palate needs. We have a diabetic and gluten intolerant eater as well as a very picky 6-year-old. This fits the bill for both of them! And it only takes about 10 minutes to make, which fits my needs."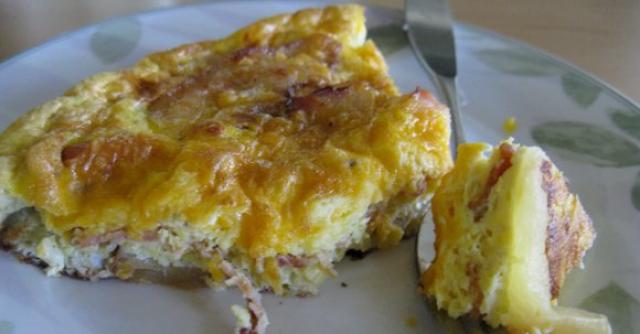 Bacon Cheddar Apple Frittata
Prep Time: 20 minutes   |   Cook Time: 20 minutes   |   Yield: 4 servings
Ingredients
2 teaspoons butter
1 apple, peeled and sliced thinly
4 eggs
2 egg whites
2 tablespoons water
1/2 cup grated cheddar cheese
salt
pepper
4 strips precooked bacon
Instructions
Preheat broiler.
Melt butter over medium-high heat in a 10-inch oven-proof skillet.
Add apple slices and saute approximately 12 minutes or until soft.
Meanwhile, in a large bowl, whisk eggs, egg whites and water until frothy. Stir in cheese, salt, and pepper.
Place bacon strips on top of apples.
Pour egg mixture into skillet. Cook 2 minutes, or until bottom and sides are set. Resist the urge to stir!
Carefully transfer skillet to broiler and cook, 6 inches from heat, for 2-3 minutes or until top is set.
Cut into wedges and serve.