I'm On Top Of It Day
September 12, 2016
What is I'm on Top of It Day?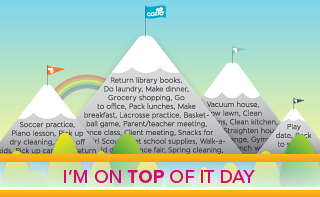 It's an annual holiday Cozi created to celebrate and reward busy families for being on top of at least one organizational chore that gives them forehead wrinkles. It happens every year on the second Monday in September.
Get on Top of It with Cozi
Cozi knows that moms and dads are constantly juggling a menu of responsibilities: home, school, kids, meals, work, community and more. We know this because we see it piling up on their calendars, shopping lists and to do lists every day. With life this hectic, it's impossible to stay on top of everything all the time, but it IS possible to get the mission-critical stuff under control. I'm On Top Of It Day is all about celebrating one thing that you feel good about getting on top of.