How to Add a School Calendar to Cozi
If your child's school offers an Internet calendar feed, adding it to Cozi is a fast and easy way to get all the school's important dates on the calendar for everyone to see. These instructions will help you find out if your school offers a calendar feed and then add it to Cozi.
Step 1: Find the School's Internet Calendar
An Internet calendar is a read-only calendar that's published on the internet and can be shared, accessed, and viewed in a calendar such as Cozi. When you add an Internet calendar to Cozi, you can view the events in your Cozi calendar alongside your other family appointments.
Many schools publish the school calendar in a digital format and make it available on the school's website.
To see if your school has an Internet calendar, visit the school's website and look for the school calendar section. When you are on the school calendar page, look for icons or labels that indicate an "iCal feed" is available.
Not all schools will have a digital calendar or an iCal feed available, but many do! If you're not sure, you can try asking your school administrator.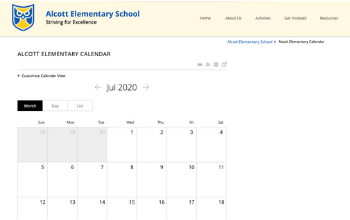 Step 2: Identify the School Calendar's Link or URL
Look for a link, button, or icon that says iCal feed, iCal, Download, Apple iCal, or iCalendar. Some websites may display the full URL directly on the website.
Move your mouse cursor over the link or button (but don't click it!). If instructions appear to copy the link, then select copy. If no instructions appear when you hover over it, try clicking on the link for more information.
Typically, an Internet calendar link will end in ".ics" or "icalfeed"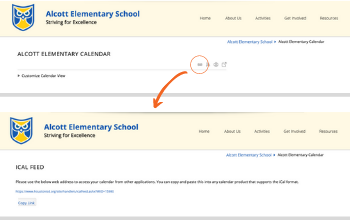 Step 3: Copy the Calendar URL
Right-click the link or button that displays the URL of the calendar you want to add to Cozi.
After you've right-clicked the link or button that displays the URL, a menu will appear. Click Copy Link Address.
Note: If you click a link or a button containing an Internet calendar's URL, the calendar may open. If this happens, close the calendar or message prompt, return to the website containing the Internet calendar's URL, and make sure to copy the link instead of opening it.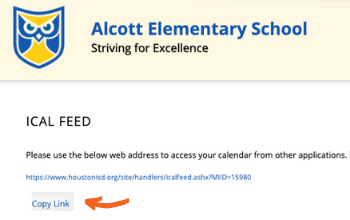 Step 4: Paste the Calendar URL into Cozi
Go to my.cozi.com or open the app and sign in to your account.
From Settings choose Connected Calendars and select ADD A CALENDAR FROM A URL.
Paste the URL you copied in the previous step into the text box and click Next.
Select which family members should be subscribed to the calendar.
Click Save to add the Internet calendar to your Cozi account.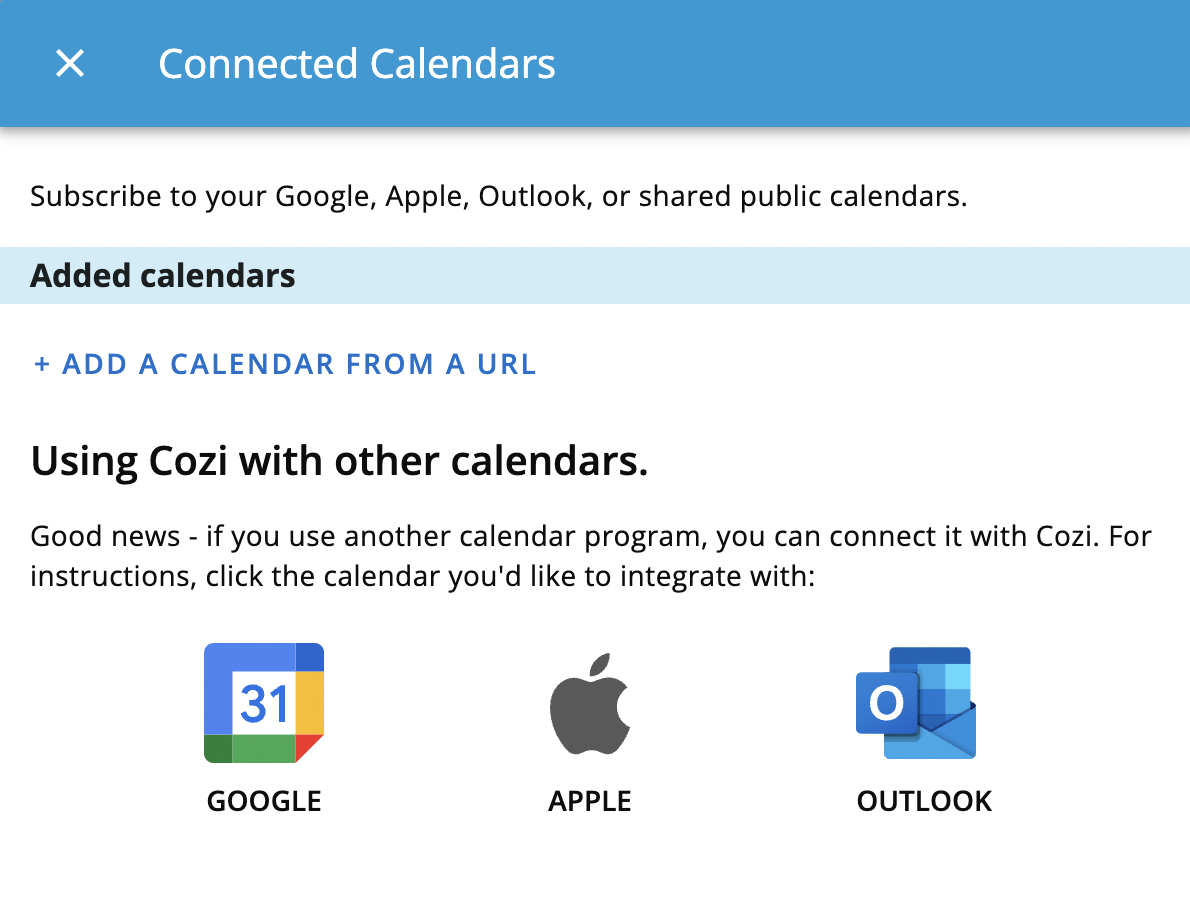 Step 5: View calendar events in Cozi!
That's it! You can now see the school calendar's events in your Cozi calendar alongside your other family appointments. If the school calendar feed is updated by the school, you will automatically see those changes in Cozi.
When you integrate a calendar feed in Cozi, there are some limitations on what you can do with those events. Events from an Internet calendar feed cannot be edited within Cozi (they should be edited from the original calendar source) and they cannot have reminders added to them.
To delete this Internet calendar or assign it to someone else in your family, go back to Settings to view and manage all of your calendars.