Two Ways to Simplify Your School Volunteer Work
Could you use some help organizing the part of your life where you coordinate classroom parents, organize bake sales, help at the school carnival, or ask for soccer snack signups? Today, we're sharing a couple things to help simplify the work you do at the school, with sport teams, and on community events.
1. VolunteerSpot.com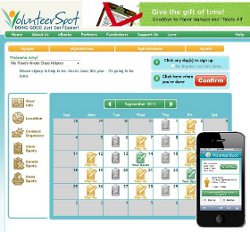 The first tip is to tell you about VolunteerSpot.com — a free online sign up tool that ANYONE can use to coordinate parents and volunteers easily.
With VolunteerSpot it's simple to set up a private signup sheet or signup calendar and invite parents to help. With a few clicks of a mouse or taps on a smartphone, parent helpers can choose their spots and what to bring. Not only will VolunteerSpot save you time (and sanity) getting organized, everyone will love that you did it without those pesky reply-all email chains. And Cozi has partnered with VolunteerSpot so you can even sync your VolunteerSpot commitments to your Cozi calendar!
2. Pre-made Checklists and Plans for Upcoming School Events
Next, we've prepared a few lists to get you organized right now for events you might have coming up on your calendar:
There you have it! Tools and downloadable checklists to help you accomplish your volunteer work. Thank you for all your efforts!

New to Cozi? It's the simple way to manage your busy family life with a shared calendar and lists that you can access from any mobile device or computer. Sign up for Cozi. It's FREE!