Recipe Sharing Saves the (Holi)day
We've all been there, in the middle of preparing Thanksgiving dinner your brother calls and needs the recipe for Mom's pumpkin pie. You don't have time to read him the recipe, what can you do?
Enter Recipe Sharing, one of the hidden gems in the Cozi Family Organizer app. The Recipes tab in the Cozi mobile app is great for organizing family recipes and creating a meal plan, but it's also great for sharing your recipes with people near and far – whether they have the Cozi app or not.
How to Share a Recipe From Cozi:
Choose the recipe from your Family recipe box (Recipes in other recipes collections need to be saved in your own recipe box to enable sharing.)
In the upper right hand corner: tap the share icon on iOS, or the 3-dot icon on Android
Select how you would like to send the recipe: email, text, or messaging apps
Your recipient gets the message and clicks the link to see your recipe!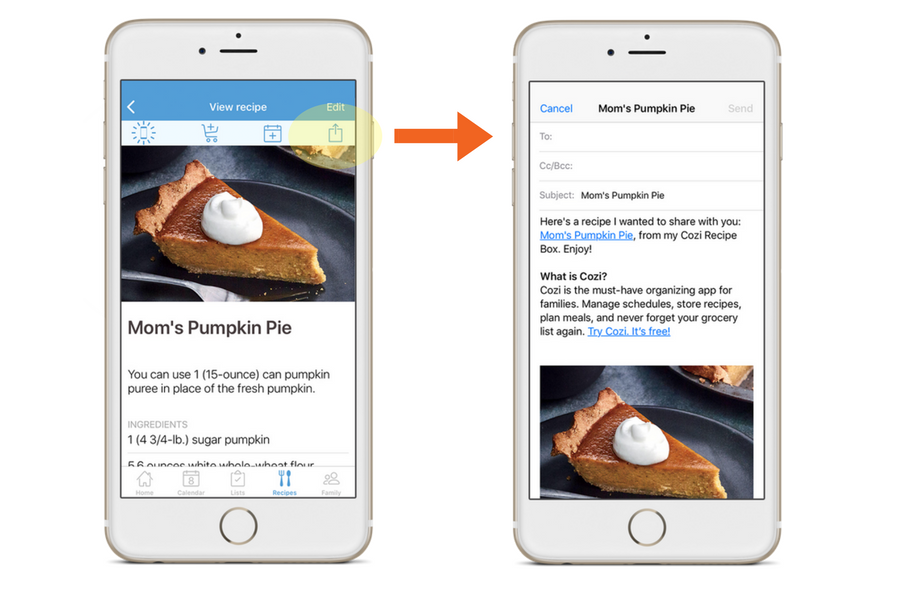 Cozi Family Organizer is the must-have app for busy families - easy to use and free in the app store. You'll wonder how you managed your busy life before Cozi. Get Cozi today!