Really Real Family Mottos (from Cozi Families)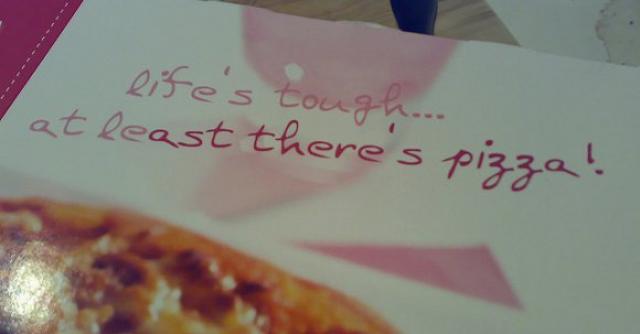 Family mottos can represent a serious reflection of family values, a historical connection to your family name, or, as our Cozi families showed us, two parts wishful thinking and one part "let's not take ourselves too seriously!"
In any event, we had a blast reading the real family mottos that are hanging on the fridges and painted on the walls in the homes of Cozi families; or simply uttered when the someone needs a boost.
(These were originally posted to the Cozi facebook page – if you want to get in on the fun conversations, and be the first to hear about Cozi features and announcements, go Like our page now!)
---
BE SILLY. BE HONEST. BE KIND.
---
WAKE UP & BE AWESOME!
---
LIVIN' THE DREAM!
---
PATIENCE AND TOLERANCE
---
TEAM FUN!!!
---
SOMETIMES THE LAST MINUTE IS THE ONLY MINUTE
---
IT'S AROUND HERE SOMEWHERE
---
WORK HARD, PLAY HARD, PRAY HARDER
---
FAMILY FIRST
---
SHAKE IT OFF!
---
WE'RE LIVING SATISFIED
---
DO THE RIGHT THING BECAUSE IT'S THE RIGHT THING TO DO
---
PUT YOUR BEST IN WHATEVER YOU DO AND YOU'LL NEVER BE DISAPPOINTED
---
ALWAYS REMEMBER WHO AND WHERE YOU COME FROM
---
I LOVE YOU, DO YOUR BEST IN ALL YOU DO
---
GO WITH THE FLOW
---
EVERY LITTLE THING IS GONNA BE ALL RIGHT
---
BE NICE AND DON'T LIE
---
ALWAYS GIVE YOUR BEST EFFORT, HAVE INTEGRITY, AND ALWAYS BE KIND
---
IF MOMMA AIN'T HAPPY AIN'T NOBODY HAPPY
---
ALL FOR ONE, AND ONE FOR ALL, AND TOGETHER WE CAN LICK THE WORLD!
---
GO WITH THE FLOW
---
NOT EVERYBODY'S LIKE US!
---
DON'T POKE THE BEAR
---
BE SAFE, BE SMART, BE KIND!
---
PLANS HAVE CHANGED
---
BE GREAT
---
IT COULD ALWAYS BE WORSE, SO BE THANKFUL FOR EACH & EVERY OPPORTUNITY & ACTION
---
AN ORGANIZED LIFE IS A HAPPY LIFE
---
TREAT OTHERS THE WAY YOU WANT TO BE TREATED
---
WE MAY HAVE TO AGREE TO DISAGREE
---
SAY WHAT YOU MEAN AND MEAN WHAT YOU SAY
---
ASSUME THE POSITIVE
---
I AM, I OUGHT, I CAN, I WILL
---
OHANA – ALWAYS ROOM FOR ONE MORE!
---
BE AMAZING!
---
PEOPLE ARE MORE IMPORTANT THAN THINGS
---
And the most common motto mentioned is…
YOU GET WHAT YOU GET AND YOU DON'T THROW A FIT!
---
photo credit for the awesome pizza motto goes to russelljsmith.

Cozi Family Organizer is the must-have app for busy families - easy to use and free in the app store. You'll wonder how you managed your busy life before Cozi. Get Cozi today!