New in Recipe Box: Easily save recipes from other sites

Now it's easier than ever to add recipes into your Cozi Recipe Box while on your mobile device. Use one of the ways described below to quickly add recipe data (ingredients, prep steps, and even recipe images) straight into your Cozi Recipe Box from other sites.
Add while browsing on an iOS device: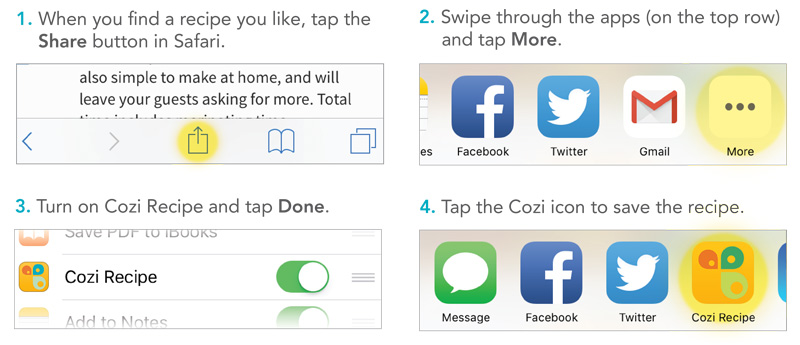 iOS video tutorial:
Add while browsing on an Android device: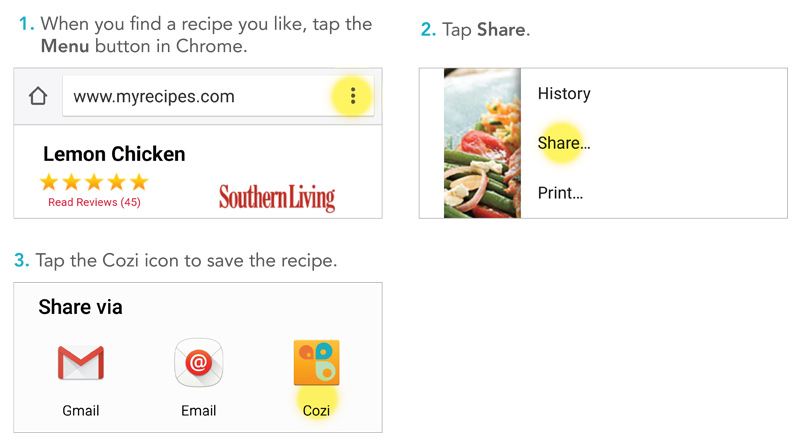 Add from a URL:
To add a recipe from a page on the web, you can also copy the page URL, open Recipe Box in the Cozi app, and tap "+" in the upper right hand corner. From there, paste the URL into the Recipe URL field and tap "Save." Voila! You will see the full recipe.
Hint: From that same page where you paste in the URL, you can also choose to enter a new recipe from scratch. Just enter the recipe title in the Recipe Name field and tap "Save" to begin entering the recipe information.

New to Cozi? It's the simple way to manage your busy family life with a shared calendar and lists that you can access from any mobile device or computer. Sign up for Cozi. It's FREE!