Cozi Gold Feature: Pick a Theme for Your Cozi Mobile App
What's YOUR theme? Sleek and simple? Flowery? Outdoorsy? Ready for the beach?
No matter what it is, you can make Cozi your own with the latest addition to Cozi Gold: Cozi Themes for mobile.
To pick your theme, tap Change Theme in the main navigation of your Cozi mobile app. A little more about Cozi Themes:
The theme you pick becomes your mobile app background, and applies a complementary color scheme to your calendar, lists and other features.
You can switch themes whenever you feel like it.
Each person in the family gets to pick a different theme.
There are fourteen themes to choose from!
These are themes for your mobile app only and will not change the appearance of your Cozi account on the web.
If you are a free Cozi user and would like to experience Cozi Themes before you upgrade, you can do so with a free 14-day trial of Cozi Gold.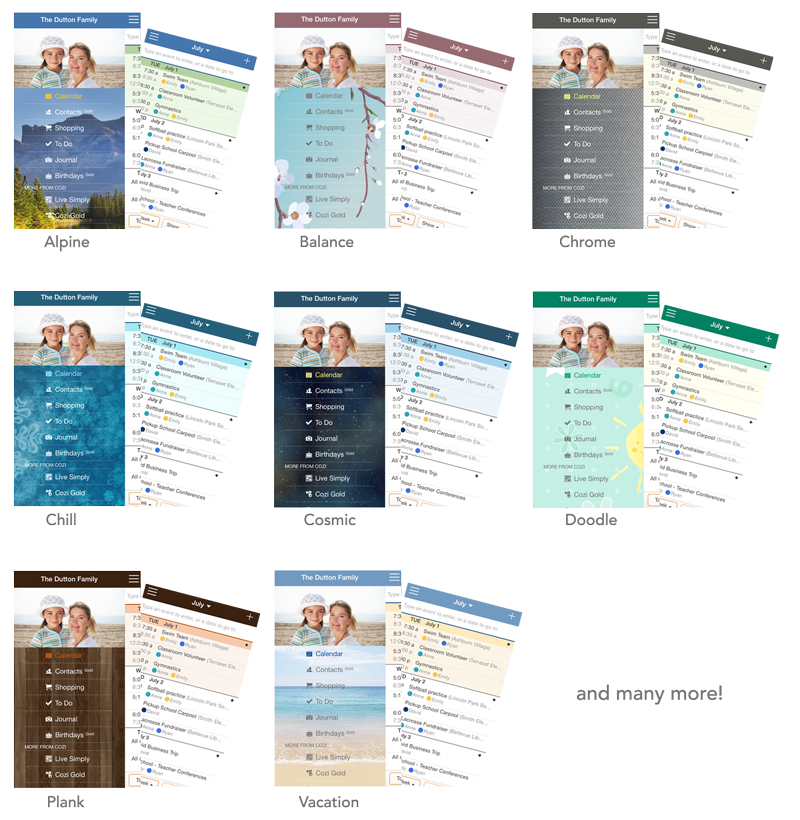 We hope you enjoy adding a personal touch to Cozi!

New to Cozi? It's the simple way to manage your busy family life with a shared calendar and lists that you can access from any mobile device or computer. Sign up for Cozi. It's FREE!