Looking for Starter Lists? Browse the Cozi List Library
Aren't lists great? Just making a list feels like an accomplishment – you've organized your thoughts and figured out what needs to get done. And checking off feels even better. (It must, because we hear that some of you add an already-completed item to your list just so you can check it off!)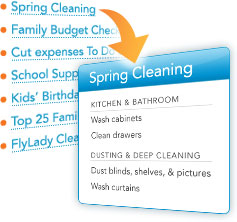 Cozi not only helps you organize and share the lists YOU make, we do a little list-making ourselves to help get you started. We keep them all in the Cozi List Library, where you'll find household cleaning lists, chore lists, grocery lists, supplies lists, planning checklists, budget checklists, and more.
Each one can be saved as a list in your Cozi account where you can do all the things you do with your other Cozi lists: add items, remove items, and share with other family members.
Check out the Cozi List Library today.
Looking for a list we don't have yet? Tell us in the comments about the lists you'd like us to add.

New to Cozi? It's the simple way to manage your busy family life with a shared calendar and lists that you can access from any mobile device or computer. Sign up for Cozi. It's FREE!