Laundry 101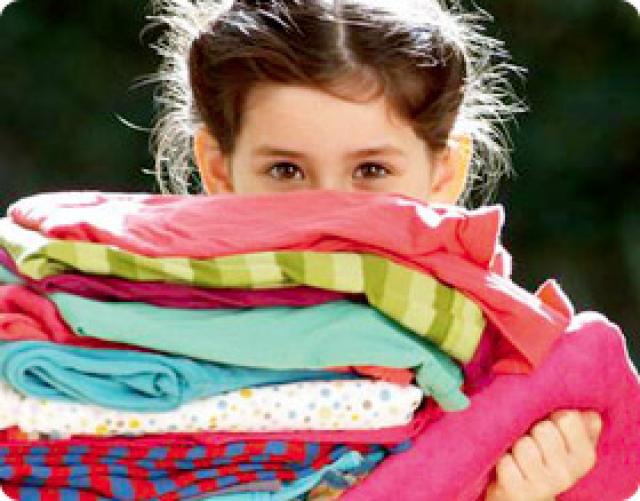 If your favorite white sweater is now pink and could fit your 13-year-old, what you need is Laundry 101. Here's a list of what you can lump together in one load without fear. It's easy to follow for all those family members who aren't accustomed to washing their wears — it might even get them to lend a helping hand.
Machine Wash, Cold Water
Brightly colored items
Women's underwear and bras
Delicate whites such as cotton-blend blouses
Tightly knit cotton sweaters
Lacy, sheer clothing
Pantyhose and tights
Unlined rayon clothing
To dry: Line dry or tumble dry low; lay cotton sweaters flat to dry
Machine Wash, Warm Water
Polyester or polyester-blend items
Blue jeans
Cotton T-shirts and shirts
Sweatshirts
Workout clothes, leggings
Colored towels
To dry: Tumble dry low or medium
Machine Wash, Hot Water
White socks
Mens underwear and shirts
White or nearly all-white clothing
White towels and linens
Cloth Diapers
To dry: Tumble dry medium or high
Hand Wash
Lingerie
Washable Scarves
Silk blouses
Frilly or adorned items (appliqués, embroidery, fringe, beads, sequins, fringe, eyelet)
Mittens, gloves, mufflers
Colors that will bleed into others
Bathing suits
To dry: Line dry or lay flat to dry
Dry Clean
Men's ties
Cashmere
Woolen pants, tops, jackets, sweaters (unless the tag says hand wash)
Rayon items, especially if they feel stiff
Business suits, blazers, vests, etc.
Any piece of clothing that has a lining
Important: Regardless of color or fabric you should always read the special care instructions on the item's tag.

New to Cozi? It's the simple way to manage your busy family life with a shared calendar and lists that you can access from any mobile device or computer. Sign up for Cozi. It's FREE!