Kids' Clothes: 5 Ways to Stock the Closet on a Budget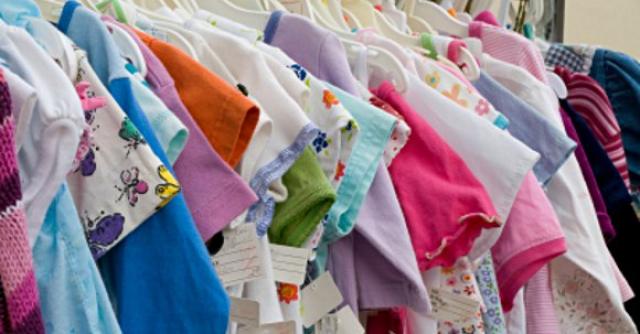 Back to school shopping can put quite a strain on the family budget. It's tough satisfying your kids' demand for the latest styles and brands without spending too much money. But there are ways to get new clothes for your kids that can save you money while keeping them up-to-date with trends.
We asked our families for how they buy kids' clothes on a budget and, as always, they came through with top ideas for this parenting dilemma.
Seems all you need is some creativity, an eye for deals, and a computer to help save money on clothing. You'll be surprised by how simple it can be to save on clothes!
1. Clothing swap
"Get together with some of the neighborhood moms and have a swap!  It started with children's clothes but now we include women's clothes(purses, shoes, belts, etc) as well!! Everyone brings a bottle of wine – we get new things, give others away, have cocktails & enjoy a fun night with the ladies!" –Jessica
This is an easy, green way to get new clothes for your children. Partner up with parents in your neighborhood, from your children's extracurricular activities (think Girl Scouts, dance, soccer), or the parents of your child's friends. Schedule a day to meet and swap clothing. That's it! Here aer some tips:
Ask parents attending to bring their child's clothing to your home the week prior to the swap, which will allow you time to organize clothes by size and gender.
Set clear guidelines for the clothing, such as no stains or tears and ask that clothes be washed.
It's up to the group whether children are allowed to come along. While it helps out if you're unsure about whether an item will fit, it can also create havoc.
At the end of the swap, donate any clothes that weren't chosen to a local charity.
Another new way to swap clothes comes to you from the internet. If you haven't heard of ThredUp.com yet, you might want to check it out. This site allows you to purchase a membership (at affordable rates), that allows you to choose boxes of gently used clothing for $15. You can also put together your own box of clothing you want to swap, list the clothes on the site, and when another member chooses it, you send it free of charge (the site takes care of shipping from your home). ThredUp has stirred up quite a bit of talk among parents. Try it and you'll see why!
2. Try Consignment
"I shop for a season of clothes at the Good Will or Salvation Army shortly before the weather changes. I can often find an entire season for under 50.00…" –Christine
"I sell my kids' clothes that they have outgrown in consignment sales, and I use that money to replenish their closets." –A.
Not only can you buy clothes at a consignment store, you can also consign items to earn some money. Consignment stores typically carry gently worn clothing in good condition, and you would be surprised by the brands that are available. Prices are affordable, which means you can really stretch a dollar when you need to.
If you're interested in unloading your child's outgrown clothing, toys, and gear, you can call the store to set up an appointment and bring the items in. The stores will sort through, price, and sell items they deem retail-worthy, and at a later date you return to pick up the money. How easy is that?
3. Sales and Clearance
"NEVER buy full price! Stick with the sales/clearance items and head for those clothing racks in store or to those links ONLY online!" –Pam
"I like to stock up when I find a good deal. I never buy one shirt from a clearance rack but instead I buy 3 or 4." –Elizabeth
It goes without saying that shopping sales and clearance racks are excellent ways to save money. Most major retailers hold annual and seasonal sales that can get you anywhere from 30%-60% off, sometimes even more. These sales tend to fall during major holidays, like Labor Day, the 4th of July, Veteran's Day, and through the end of December.
Most stores also have clearance racks that offer you 50% and more off selected items. A good tip is to sift through these racks whenever you see them, as you never know what deals you will stumble upon! You might score some threads that the kids don't fit into just yet, but stick to staples like jeans and plain t-shrits that won't go out of style to be safe.
4. Coupons
"We also combine sale and clearance items w/ store coupons at places like Gymboree and Children's Place, getting our higher quality items at really low prices." –Erica
"I try to wait until I know I will be buying at least $50 worth of clothing and then buy online. You can almost always find coupon codes online for either free shipping or 20% off a $50 or more order." –M.
Plenty of retailers are now offering coupons and in-store money, like Kohl's Bucks and Gymboree Bucks. You can earn those by spending specified amounts, like $50 or more, and then you have $10 to $25 or more to spend at a later date. These are great if you are a frequent shopper at these stores. Just be aware of when you can use the bucks so they don't go to waste.
Retailers are also offering promotional specials via email, sending you codes or coupons if you're registered to receive them or the store newsletter.
5. Buy off season
"I buy for the following year at the end of the season when everything is on sale, I just buy a size larger." –H.
"The best way is to stock up on the off season sales… that is where you find the best deals! I already have this year's Chirstmas dresses and next year;s Easter outfits!" –Krystal
Some things you know your child will need year after year, like sweaters, jackets, and seasonal clothing. The best time to buy those items is to buy them at the end of each season – but buy for the following year. Many times you'll notice that summer clothing is on sale in early spring, when the weather might not call for shorts and tanks. This is when you search the sales and clearance racks for long pants, sweaters, coats, and other winter apparel that the stores are trying to get rid of.
This cycle repeats each season, as long as you're aware of when the stores are putting out the next season's styles. You can save quite a bit of money buying clothes for the following year!

New to Cozi? It's the simple way to manage your busy family life with a shared calendar and lists that you can access from any mobile device or computer. Sign up for Cozi. It's FREE!