Introducing Shopping Mode in Cozi Gold!
You use your Cozi shopping list differently when you're at the store than when you're adding or managing a list, right? With Shopping Mode, you can switch on a new set of features that are super helpful while shopping (including top requests from Cozi families) so you get through the store faster AND get everything the household needs. Even last minute additions!
Shopping Mode is a new mobile app feature for Cozi Gold accounts – if you're a Gold subscriber, you have instant access. If you don't have Cozi Gold, that's okay, you can experience Shopping Mode three times for free! (Just tap Shopping Mode at the bottom of your list screen.)
Here's everything you get when you turn on Shopping Mode:
1. A full-screen view that won't dim or rotate
Has your phone ever dimmed or the screen rotated while you're at the store trying to use your list? It shouldn't – who has extra time to wait for the shopping list to catch up?
When you're in Shopping Mode, your list enlarges to fill the entire mobile phone screen, and it won't budge the whole time you're in the store. (Not even when you put your phone in your pocket to inspect some produce.)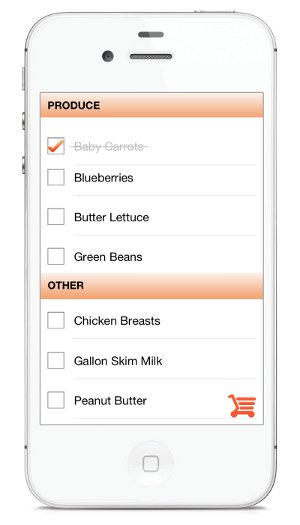 2. Quick check off: Tap anywhere on an item and it moves to the bottom – out of the way
You've asked for this feature, and now you have it! Your list clears automatically as you check off items so it's easy to see what's left to get. Plus, in Shopping Mode, you can tap on any part of the list item (no more trying to tap in the check box) to move it to the bottom.
3. Collaboration with the family in real time so you get everything you need
This one will make you feel like the Jetsons. Items added by other family members from the home computer or other mobile devices are immediately highlighted and easy to see on the list you're using at the store.
So if your spouse realizes you're out of dog food (or the kids realize they're out of ice cream), those items will pop up on your list. No more coming home with a full bag of groceries but not with the one thing you need to make dinner!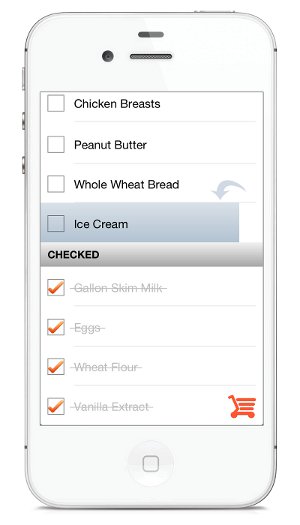 We hope you LOVE Shopping Mode! It's part of Cozi Gold, the premium version of Cozi which is ad-free and has more features including:
Multiple reminders for each calendar appointment
Calendar change notifications (NEW!)
Shopping Mode (NEW!)
Month view on mobile apps
Birthday Tracker
Much more!
These features are designed to make managing a busy family life easier than ever, so why not go to your account and upgrade today? If you do, you'll receive two free gifts as a thank you – exclusive Cozi swag and a free Shutterfly Photo Book!

New to Cozi? It's the simple way to manage your busy family life with a shared calendar and lists that you can access from any mobile device or computer. Sign up for Cozi. It's FREE!