Introducing Cozi Today: Your Up-to-Date Snapshot of What's in Cozi
Cozi Today is a brand new view in the mobile app that shows you what's on your plate right now.
For the first time, you will be able to see current to dos and recently added shopping list items on the same screen as calendar events. Plus, you'll see only the events that are happening now or within the next day. So if it's 3 pm, Cozi Today knows not to show you the early appointments that have already passed.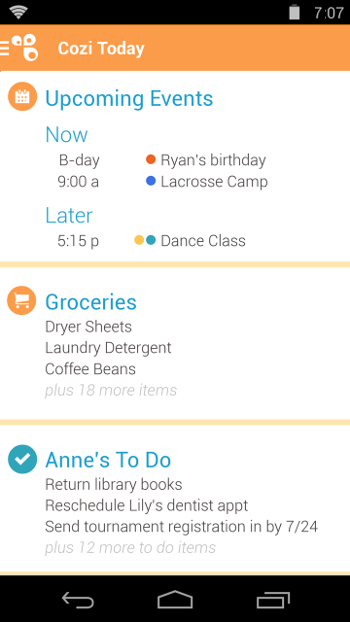 How to View Cozi Today
You can get to the Cozi Today screen from your app's main navigation. It's the first item in the list.
You will also see Cozi Today when you first open Cozi if the app is no longer in your device's memory. (How often that happens varies from device to device.) Otherwise, Cozi will open on the last screen viewed.
Once you're on Cozi Today, tap the calendar or a list card and you'll go right to that feature area.
We hope you enjoy this new option for getting a quick view of your family's calendar and lists!

New to Cozi? It's the simple way to manage your busy family life with a shared calendar and lists that you can access from any mobile device or computer. Sign up for Cozi. It's FREE!