New! Improvements to Cozi lists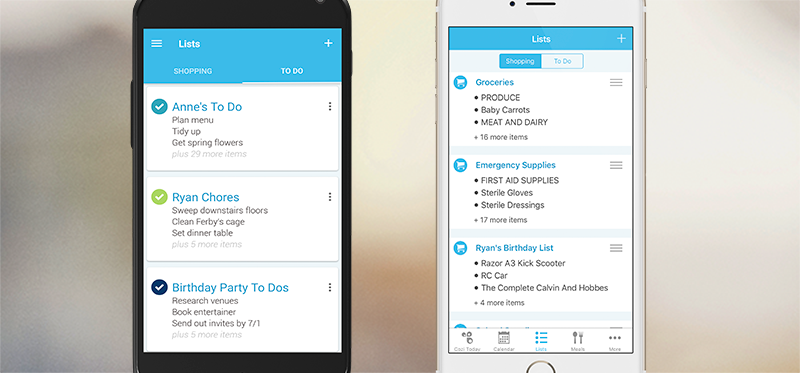 Have you already checked out the new and improved Cozi Lists feature in the app? Keep an eye out for the latest version of the app, and then once you've updated, select "Lists" in the navigation to take a look around.
Here's what's new:
Easily toggle between Shopping and To Do. All of your lists are now accessible in one place within the app under "Lists." You can toggle between Shopping and To Do by tapping the buttons at the top of the screen, and then you'll be taken to a screen that shows previews of your lists.

Edit list settings right on the preview screen. As you're viewing the list preview screen, you can swipe left to quickly edit or delete a list. Select "Edit" to change the list's name (or also change the list owner for To Do lists), or tap "Delete" to permanently delete the list.

Check all, uncheck all, and more. Perform quick list actions with the List Action button in the upper left. From here, you can share your list, enter Shopping mode (a Gold feature), check or uncheck all list items, and delete checked items.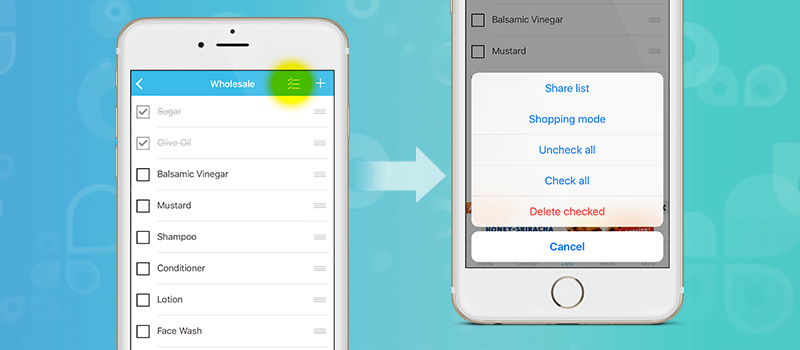 More ways to Share your lists. Share any Shopping or To Do list with someone outside of Cozi using email, AirDrop, and more. Or, save the list to another app on your phone, such as Notes. Just tap the List Action button, select Share list, and choose a sharing method.

Drag and drop to reorganize your lists. While looking at the list preview screen, easily re-order your lists by pressing on the drag bars in the upper right corner of each list and moving it to where you'd like it to go.

Add lists from the Cozi List Library. You can now pick from more than 30 popular lists that have been curated for you by Cozi. After tapping the + in the upper right hand corner of the list preview screen to add a new list, tap the link to browse the list library. You can choose from lists like the Vacation Packing Checklist, the Summer Seasonal Produce Shopping List and the Spring Cleaning Starter List. Once you've opened the list you want to add, scroll to the bottom to add it right to your Cozi account.


Cozi Family Organizer is the must-have app for busy families - easy to use and free in the app store. You'll wonder how you managed your busy life before Cozi. Get Cozi today!