How Are Millions of Families Using Cozi to Get on Top of It? Let's Take a Look…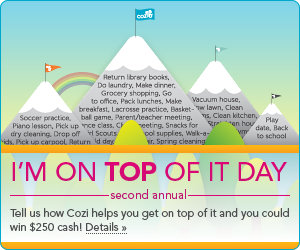 Need some daily inspiration? See how families just like yours are using Cozi to get their arms around busy family life:
"Airline pilot dad. I just updated our family to do listfrom the west coast and east coast in the same day with Cozi! No really, #ImOnTop!" via @5ontheglide, on Twitter
"I use it to keep track of my husband who is a traveling salesman, my mother's chemo appts, my kids crazy life and the mom who has to keep everyone straight (me). Love, love, love my Cozi!" – Beverly C, on Facebook
"I've been looking for Cozi since Feb. and my husband has been asking his friends for it.  Now, I only have one calendar,instead of three and can share it with my husband. The bonus part of Cozi, is not only can I print out my one calendar full of activities but I can share them with my household. I no longer need to write on my kitchen, office, and phone calendars. Nor does my husband need to ask all the time, about my schedule or forgetting his appts. It's amazing!" – Anna, on the Cozi blog

New to Cozi? It's the simple way to manage your busy family life with a shared calendar and lists that you can access from any mobile device or computer. Sign up for Cozi. It's FREE!