Homework Solutions to Avoid the Daily Struggle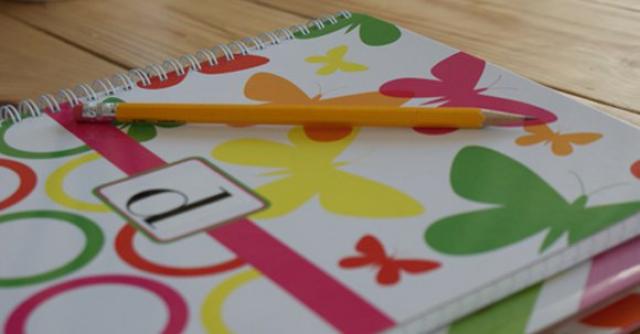 Now that school's back in session, it probably dictates much of your daily schedule, and struggling over homework isn't something any of us want to deal with after a busy day!
Here at Live Simply, we offer ideas for kids of all ages to be independent.  Here some ideas about the things we can do as parents ahead of time, to give kids more control over their homework.
1. Set up a homework area.
Have a dedicated space for homework time so that your kids can focus on their homework without being distracted by clutter or chaos. For older kids and teens, this might be a corner of their bedroom with a desk and computer. For younger kids, it may just be the kitchen table or a corner of the counter.
2. Gather all the supplies they might need.
Fill a basket with extra lined paper and pencils as well as a ruler and any other supplies they need on a regular basis, or use a drawer in your kitchen or coffee table to hold their supplies. The key is that they won't be able to use looking for supplies as an excuse to procrastinate!
3. Set up a daily routine for homework.
Kids like routines (even the routines they don't like), and having a routine in place that includes an afternoon snack, a time to rest and then tackling homework is a great way  to set the expectation for homework time so that there's less arguing and whining.
4. Use natural consequences.
Rather than having to fight with your kids each day to get their homework completed, try using natural consequences to motivate them to do it quickly and without argument. For example, they may miss out on playing with the other kids in the neighborhood or watching TV with the family if their homework isn't done first. It may take a few times to see that you'll really follow through with the consequence, but it really puts it in their hands to get it done.
5. Use a daily planner.
Give older elementary students a daily planner where they can keep track of homework assignments and projects. Show them how to use the planner for the homework that is due each night as well as long-term projects that they should be thinking about ahead of time. Or help them enter these projects into your Cozi family calendar so you're aware of them as well!
As parents, we still need to be involved with younger kids to make sure their homework is done on time and well, but giving them more responsibility over completing it will create good habits now that will help throughout their time in high school and college.

New to Cozi? It's the simple way to manage your busy family life with a shared calendar and lists that you can access from any mobile device or computer. Sign up for Cozi. It's FREE!