Plan Your Holidays with Cozi Planners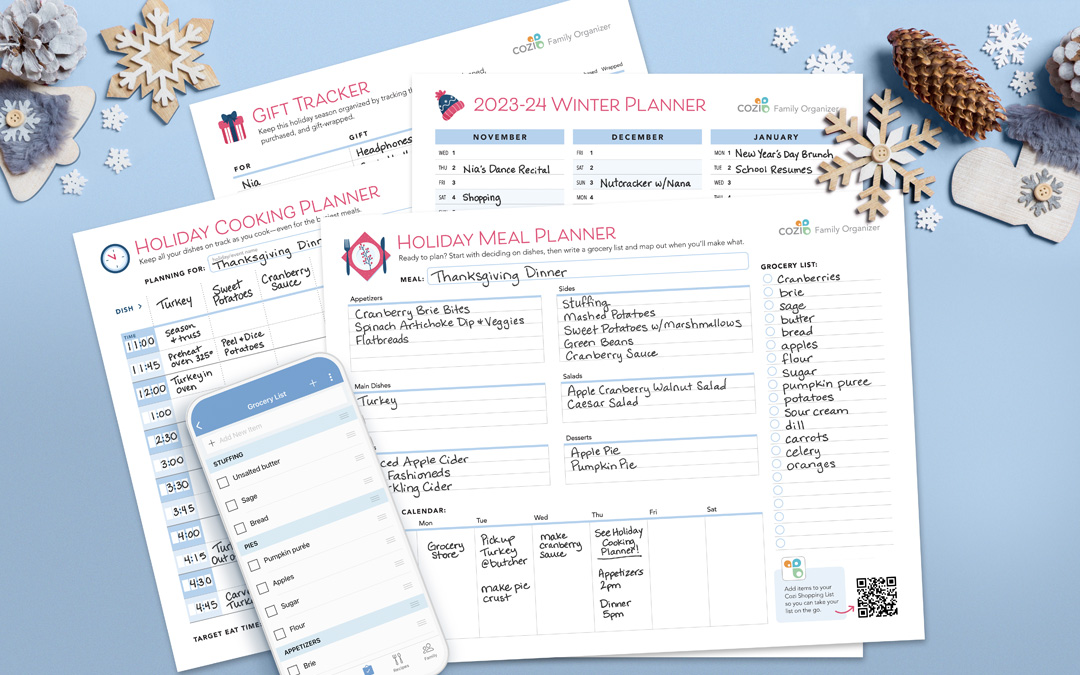 We designed these planners to make your holiday planning simpler, so that your winter will be smooth, peaceful, and full of cheer.  Think of these planners as your anti-chaos advantage.  
Map out your meal strategically to make sure everything's covered, without overlap, from deviled eggs to pecan pie. (Looking for inspiration? Check out Cozi's Recipes section.) 
Next, plan out your week leading up to the event. Shop on Sunday, pie crust on Monday? Give yourself time to get things done. (Then, add the scheduled tasks to Cozi so you can get—or give—reminders.) 
Fill out the grocery shopping list based on your menu, then add the items to a Cozi list so you have them handy at the store on Sunday! 
Now that you've mapped out the overall plan, let's get down to the nitty gritty. When will you cook what?  
Try this: Write the dishes (gravy, sweet potatoes, rolls) along the top of the chart. Along the left side, write the time in increments of 10, 15, or 30 minutes, starting with your target dinner time and working back from there.
Next, fill in the different steps or stages for each dish: Simmer the gravy. Broil the sweet potatoes. Pull the rolls out of the oven.  
Thinking it through and cross-referencing dishes will prevent the traditional oven pileup, when 7 dishes need to bake all at once. It will also keep you feeling on task and on top of things when you and your family are under pressure to cook an elaborate meal.  
(The more people cooking, the more helpful it is to post a plan on the fridge for everyone to follow!) 
See three of the busiest months on one page to keep a big-picture view of your winter plans. The weekends are highlighted in gray, so you can spot where the weeks stop and start while still taking it all in at a glance.  
Mark major events like holiday parties, trips, and performances. Then hang it up on your fridge with a cute snowflake magnet or tape it on your wall so the whole family can follow along. 
Even if you already added these big events to Cozi, the planner can help the family stay on the same page if they see it every time they open the fridge. Or if you started with the planner, add the events to Cozi so everyone gets reminders. (Tip: Use the QR code on the bottom right to easily open right to your Cozi Calendar) 
Whether you're minimalist or you go all out, this tracker helps you stick to your goals and stay organized. Plan each gift, purchase it, and wrap it—there's a spot to record each separate step.
If you buy a lot of presents, this makes sure you don't miss anyone. Or if you buy a cute little gift in mid-November, it won't fall out of memory until you stumble across that corner of the closet in February. Put it on your list to make sure it reaches its recipient.
If you have several kids and they each get multiple gifts, the price column can help you keep things relatively even. Or if you have an overall cap, the tracker makes it easier to make sure you come in under the max.
Tip: Try creating a master list in Cozi, using all caps to create section headings for each person. This works for wish lists, too!
Find the planners in your Cozi app
Open your Cozi app and look on your home screen. If you don't yet have Cozi, sign up today to access all of the holiday planners!
Organize your holidays with Cozi planners
The more organized you are now, the less stress you'll face during the busy holidays. Have fun planning, shopping, cooking, and giving! 

Cozi Family Organizer is the must-have app for busy families - easy to use and free in the app store. You'll wonder how you managed your busy life before Cozi. Get Cozi today!