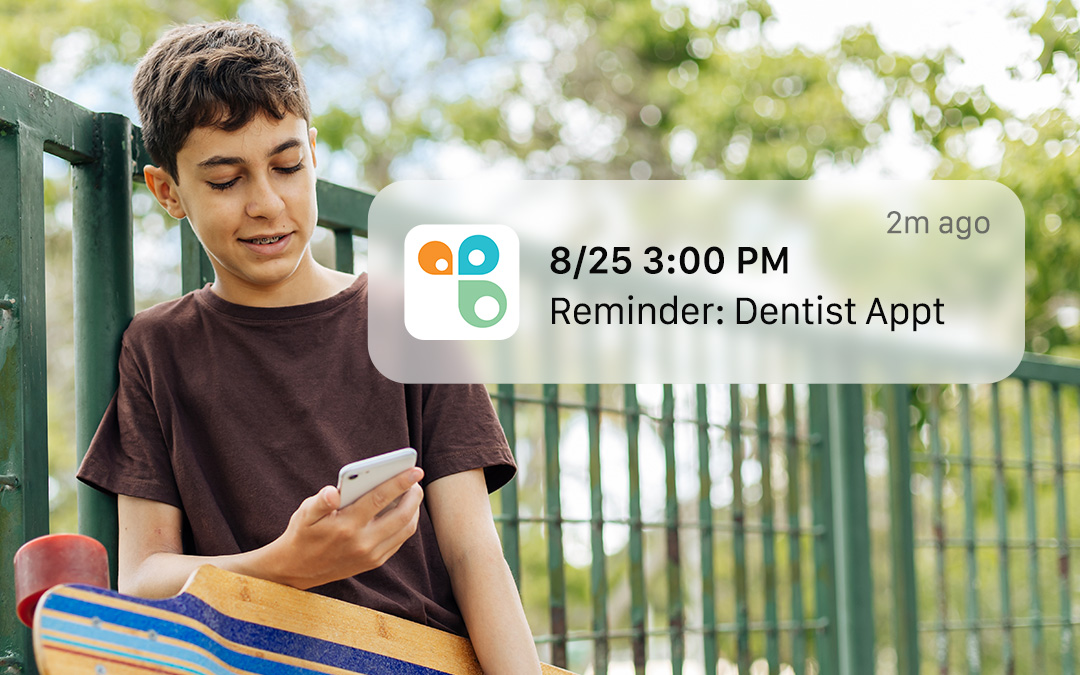 Cozi isn't just for adults. It keeps the whole family on track! If you have an older child, getting them on Cozi gives them more autonomy—which means fewer verbal reminders from you, and more consistency for everyone.  
How old should your kid be to use Cozi?
You, the parent, are the best judge to determine when your kid or teen is ready to join you on Cozi. Read this article to get a feel for how your child could use Cozi, so you can get a sense of whether they're ready for that type of participation.   
Is it safe for a kid to use Cozi?
Getting your kids on Cozi is safe, secure, and private. Cozi can only be accessed by the family members you've added to the account, so you'll always know who has access to their calendar.  
You can decide together what notifications your child will receive. 
Why should your child or teen use Cozi?
Cozi keeps everyone on the same page
Kids like to know what's going on, especially if they're involved. With the Cozi calendar, they'll always be in the know. Every family member has their own colored dot, so your kid can easily see at a glance who is busy when.  
If your kid or teen ever has a dentist appointment they'd like to know about in advance, Cozi can keep it on their radar. (No more, "Mom, why didn't you warn me?!") 
Cozi helps you plan around each other
Or if your kid or teen has a complicated schedule, you can plan around each other. Then you won't be caught in the middle of grocery shopping when she needs a pickup from dance practice. Or if your older teen has a sleepover scheduled, you'll know he can't babysit that night.  
No more crossed wires or accidental double-scheduling. 
Cozi

encourages

independence, time

management

, and

planning ahead

 
When an older kid is responsible for adding their own events and activities to Cozi, they take more ownership of their own schedule, which helps them stay on track.  
It also helps them develop life skills, like organization and time management. It empowers them to play a key role in their own lives. If they have a babysitting job on Saturday night, they can pop it into the Cozi calendar so you both know where they'll be and when they'll be home.  
What can kids do on Cozi?
Kids can use the calendar
On Cozi, kid profiles are just like adult profiles. They can add their own events to the calendar. If your busy teen's schedule is tough to keep track of, ask them to add their activities to Cozi. Then you can easily keep tabs on where they are and when they need a ride. 
When a teen sets up their own event, they can choose a reminder at whatever interval works for them—and if you have Cozi Gold, they can set up to three reminders (basically the calendar equivalent of a snooze button).
And when you're the one setting up an event, if you select your child, they'll receive the notifications they're signed up for based on their settings. 
(They'll only get alerts for an event if you select them when setting up new appointment notifications and appointment reminders for an event that they're attending.) 
Your child can also receive a daily or weekly agenda email to keep them on track. 
Kids can even calendar their school projects and due dates, so you can keep track of their workload and they can keep track of their deadlines. This is a powerful way for them to learn to organize and manage their time.  
Kids can use lists
Your child or teen can also add to your lists—so if he drinks the last of the milk while you're at the grocery store, he can just add it to your shopping list. 
Kids can also make their own lists for school supplies, homework assignments, and due dates, or even movies to watch, majors they're interested in, and ideas for friend hangouts.  
To create a recurring task list (like a chore list or a morning routine), first add the list items and use the list. Then, after the items are checked, use the Uncheck all function to refresh the list for the next day or week.  
Kids and especially high schoolers have a tremendous amount of information to keep track of, and most of them haven't fully developed the required skill set. But nothing keeps you organized like a list! 
How can you convince your kid or teen to start using Cozi?
Here's a quick list you can send to your child. 
If you use Cozi . . .  
You'll always know what's coming up.

 

You can add your own events, so I know your schedule.

 

I'll always remember what activities you have going on!

 

You can add requests for groceries.

 

You can organize your homework schedule.

 

You can keep track of due dates, with reminders.

 

You can gain important life skills that will help you feel less overwhelmed when you get to college or get your first job.

 
How to add your kid to Cozi
Go to your account Settings, and tap + Add another. Enter their name, pick a color to represent them on the calendar, add their email address, and choose their notification settings. Here are the options:
Set up email and/or device preferences: they can choose to get either an email for reminders and updates (if they choose "by email") or device notification (if they choose "on device") or both.

 

Reminders for new event notifications (like when you set up the dentist appointment for the first time) are free; notifications for changed events are a Gold feature—that means you or your kid will get an email or device notification when something changes, like when they move their driver's ed lessons from Sunday at 2pm to noon.

Select agenda emails for a quick way to get an overview of the upcoming week or day.

 
Then tap "Save" in the top right corner. 
Most kids will prefer device notifications over email notifications. If you send them agenda emails, they might prefer weekly over daily, but emails are optional.  
Next, have your child download the Cozi app. Then, have them sign in using their email address and your family account login password, and accept the prompt to authorize device notifications from Cozi. 
Now, they're ready to get started!
If they want to change their settings at any time, they can go into Settings, click on their name, and adjust.  
Cozi is for the whole family
You can have up to 12 people on your Cozi family account. Plenty of room for the kids! Share the joy of organization and share the mental workload, so that everyone's contributing and nobody's swamped. With the whole family on Cozi, you can empower your kids and reduce your own stress. 

Cozi Family Organizer is the must-have app for busy families - easy to use and free in the app store. You'll wonder how you managed your busy life before Cozi. Get Cozi today!