Desperation Dinners: What Families Make When There's No Plan for Dinner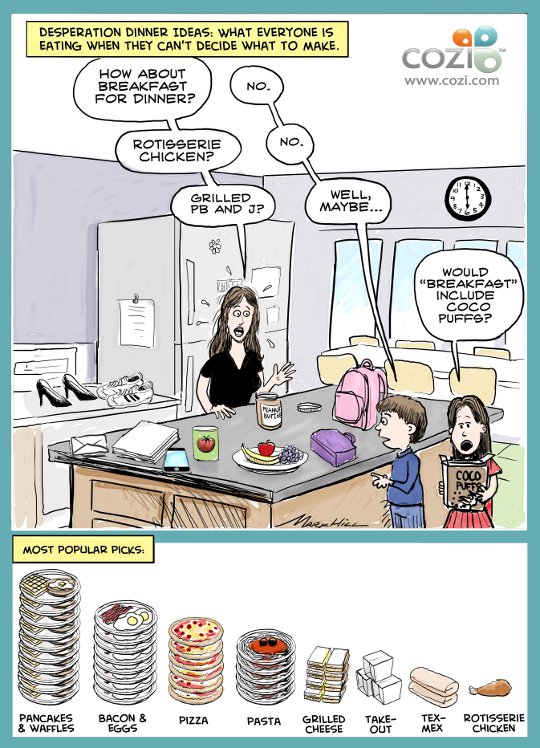 What's most popular desperation dinner menu*? Breakfast food. That's right: Whether it's eggs, toast, waffles, bacon, or pancakes, more than 25% of families say that breakfast foods stack up as their go-to desperation dinner.
What comes next? Pasta of every possible variation (20%), pizza (12%) and grilled cheese (7%) – with or without tomato soup tied – for 4th place with take-out.
Also surprisingly popular are Tex-Mex options including quesadillas, fajitas, burritos and tacos, which each got about 3%. Combined, they actually tie for 3rd place with pizza.
Many parents also report turning a store-bought rotisserie chicken into a quick meal (3.5%), sometimes with quick sides like instant mashed potatoes and a salad, but also cutting up the chicken and using it as the main ingredient in a simple recipe. Some examples include a chicken salad, a stir-fry and even tucking the chicken inside the aforementioned burritos or tacos.
Some surprises from the survey were grilled peanut butter and jelly sandwiches (clever!), popcorn (yikes) and cereal, which at 3.5% actually got as many mentions as rotisserie chicken, proving that you can never thank the folks who invented cereal quite enough.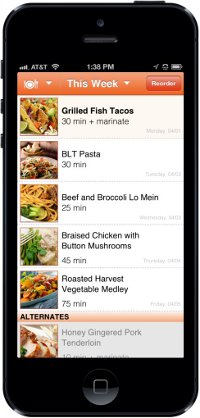 But let's face it, wouldn't it be great to avoid that desperation dinner feeling altogether? (Or at least have it happen a lot less often.)
Imagine having a weekly menu and a recipe for delicious sounding food like Slow-Cooker Moroccan-style chicken stew. Or Garlic Rubbed Flank Steak with Roasted Rosemary Potatoes. The good news is that you'll get recipes like these (and many more) delivered right to your iPhone every week, just by installing Cozi Dinner Decider for iPhone, the first and ONLY app that delivers customized meal plans based on your preferences.
So, while desperation dinner is fine in a pinch, go ahead and take the first step to avoiding that desperation altogether, and check out the Cozi Dinner Decider today!
*Source: Survey of Cozi Facebook members 11/12

New to Cozi? It's the simple way to manage your busy family life with a shared calendar and lists that you can access from any mobile device or computer. Sign up for Cozi. It's FREE!