Dad Libs! A Homemade (and Hilarious) Father's Day Gift
Do Mad Libs crack you up? Of course they do! For Father's Day, we created Dad Libs to serve as both a cute homemade Father's Day card AND a gift of laughter.
First, download the Dad Libs card template to make your own personalized Father's Day card:
Next, create a card out of the printed sheet and add your personal touches: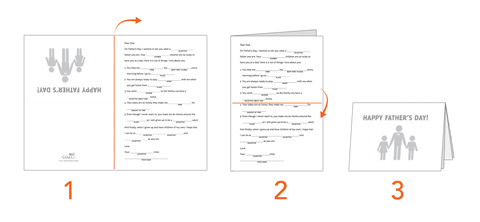 Finally, enjoy a bunch of smiles with Dad on his special day.
HAPPY FATHER'S DAY TO ALL THE DADS!

New to Cozi? It's the simple way to manage your busy family life with a shared calendar and lists that you can access from any mobile device or computer. Sign up for Cozi. It's FREE!