Access Your Recipes Anywhere with Cozi's Web and Mobile Recipe Box
Ever been to the grocery store to pick up ingredients for dinner and you get that sinking feeling you're forgetting an ingredient or two? Never again!
With Cozi's latest app update, Recipe Box is now fully cross-platform and available from any computer, mobile phone or tablet, so your recipes are always just a tap away.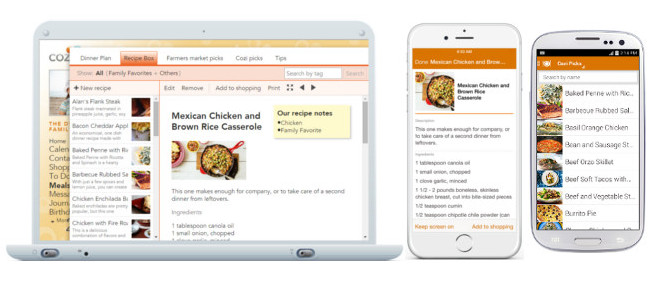 Cozi Recipe Box simplifies planning, shopping and prep:
Keep all your recipes in one place, accessible by the whole family.
Search and view recipes from anywhere – your office, the kitchen, the grocery store. Really anywhere!
Quickly add ingredients from any recipe to your Cozi Shopping List.
Use the Keep screen on feature when cooking so your device won't dim or shut off in the middle of meal prep.
Summer BONUS: Cozi Recipe Box comes stocked with recipe picks that make the most of in-season ingredients. Check them out in the Farmers market picks tab of your Recipe Box.
Get all these features when you install the latest Cozi app update from iTunes or Google Play.​
To add and save new recipes, head to your Cozi Recipe Box on the web. (You can even import recipes you find around the web: Get the Add to Meals web browser bookmarklet.) The recipes you add will be viewable from any device.
With this free feature, we are very excited to make meal prep easier for every Cozi family. Enjoy!

New to Cozi? It's the simple way to manage your busy family life with a shared calendar and lists that you can access from any mobile device or computer. Sign up for Cozi. It's FREE!