New in Cozi Gold: Calendar Search!

One of the top requests from Cozi families is finally here: Calendar Search! 
Calendar Search is a premium feature of Cozi Gold, and if you're already a Gold subscriber, you already have instant access! 
If you'd like to try Calendar Search, start a free trial or upgrade to Cozi Gold in your mobile app. With Cozi Gold you'll also get access to the ad-free version of Cozi, mobile month view, more reminders to help keep your family on track, and other premium features.
Your family's life is in Cozi, and now you can quickly find anything you've ever added to your calendar. To start searching, first make sure your Cozi app is updated to the latest version. Then, open your calendar, tap on the magnifying glass at the top of the page and enter a search term. Calendar Search is also available in Cozi on the web.
Calendar Search is brand new to Cozi, and our newest feature has already helped families:
The new search feature is life-changing for our family! —Jenny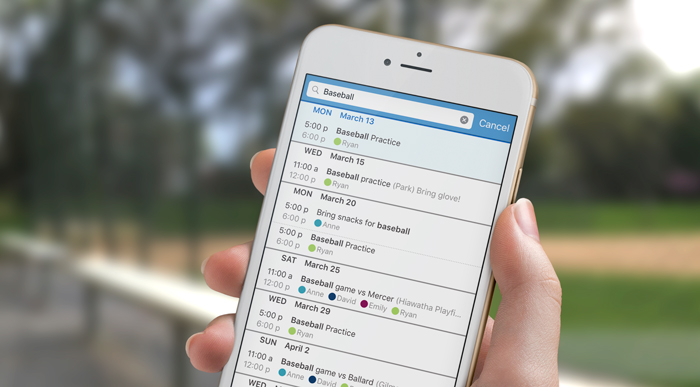 Tips & Tricks for using Calendar Search (and surprising ways Calendar Search can work for you)
While the best part of Calendar Search is quickly and easily finding upcoming and past appointments, here are a few surprising ways to make Calendar Search work for you and your family:
Search for your pet's last vet appointment was
Remember family trips and vacations
Look up birthdays
Find important appointments
See if an appointment was ever scheduled
Search notes you've made in calendar events
Review past purchases
Keep track of when your car has been to the shop
Reference work schedules in the past and future
Track volunteer hours or taxes from previous years
Track haircuts and salon appointments
Track your period
Look up school events to make sure you'll be available