Cozi Goes for a World Record for the Most Ducks in a Row!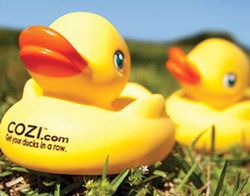 On June 5th, Cozi will set a Guiness World Record, lining up more than A MILE of (rubber) ducks in a row. Each duck we add to our row will be inspired by you, our families who use Cozi every day to get their ducks in a row.
Every time you write a to do list in Cozi, you're getting another one of your ducks in a row.
Every time you add a soccer game or family vacation plans to Cozi, you're getting more of your ducks in a row.
Every time you check your calendar on the run from your mobile phone, you're keeping your ducks in a row.
With all these ducks being lined up by Cozi families all around the world, it's no wonder that we felt inspired to go for this record!
We're also lucky enough to have some special guests joining us to celebrate this fun event. A team from the FlyLady will be there to help set this record, and to meet Cozi families who come out on the big day.
If you're in the Seattle area, please join us at Magnuson Park! Rain or shine, we'll be getting our ducks in a row from 11 AM to 3:00 PM, with the World record ceremony planned for 1:00 PM on Kite Hill.
Thanks to all our Cozi familes who keep their ducks in a row with Cozi!

New to Cozi? It's the simple way to manage your busy family life with a shared calendar and lists that you can access from any mobile device or computer. Sign up for Cozi. It's FREE!