The Chores We Hate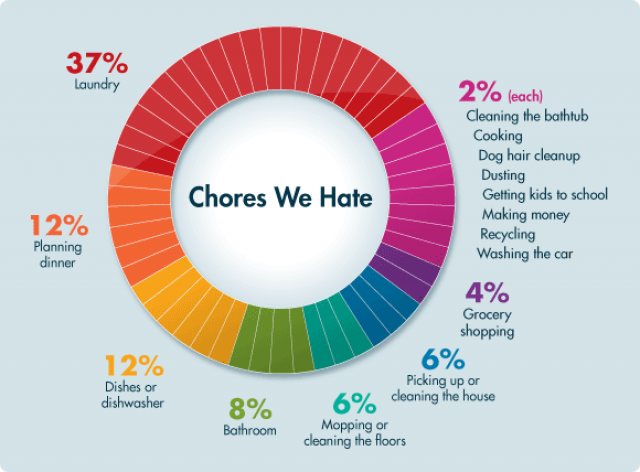 Housework. Love it or hate it, it's a job requirement if you manage a household. We asked our Cozi families to tell us their least favorite chore—the job they dread more than others. The one they could MAGICALLY have done if they could.
The clear winner? (loser?) Laundry. There is something about the multiple steps and moving laundry around the house that keeps our love of laundry at bay. Plus, there is no end to this chore: unlike those nights when you can't bear to cook, there is no option to 'go out to laundry'. The worst part? Putting it away. If you're looking for help, try these 5 Ways to Simplify Laundry.
Next up is planning the family dinner meal (tied with doing the dishes). This isn't the same as cooking dinner. Even families who love to cook had an issue with the task of deciding what to eat for dinner each and every night. Again, a chore with no end it sight. Adding picky eaters and different food preferences to the mix doesn't help. Check out our Cozi Family Dinner Club when you need a surge of family-approved ideas for what to serve your family.

New to Cozi? It's the simple way to manage your busy family life with a shared calendar and lists that you can access from any mobile device or computer. Sign up for Cozi. It's FREE!