Are you a closet slob? Here's how to clean up your act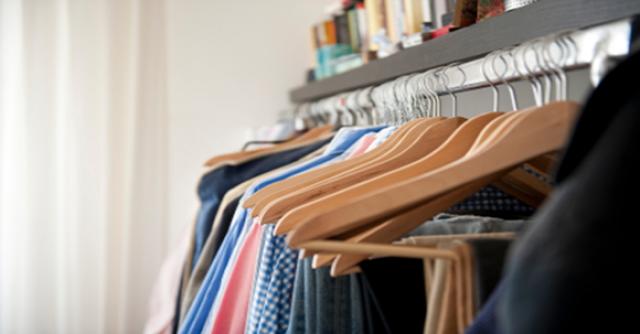 Laura Leist, CPO, is a speaker, productivity consultant and the best-selling author of Eliminate Chaos: The 10-Step Process to Organize Your Home & Life. She founded the Seattle-based organizing services firm Eliminate Chaos in 2000 and is the President of NAPO (National Association of Professional Organizers). Laura is a frequent guest on TV, radio and has been published in several national newspapers and magazines.
The changing of the season offers the perfect opportunity to assess your closet situation, as I did recently with a client. I'll call her "Nancy" and walk you through the closet makeover and organization process to give you some quick and simple ideas on how to eliminate the chaos in your closet.
Before we could decide how the closet would be designed and organized, it was important to discuss Nancy's closet needs. She told me there were many things in the closet that did not need to have a "home" there, such as the kitty litter, gifts and fancy hats that were memorabilia and not worn regularly. She also indicated there were a lot of clothes spread throughout the house that she'd like to have in this closet.
Nancy had completed one of the most difficult and time-consuming steps of the organization process before I arrived. She had sorted her clothes and eliminated many that she no longer wore, were out-of-style, were not her color, or no longer made her feel good when she wore them.
At this point we needed to group "like" items together so we could begin to see the quantities of clothing for which we needed to design a space. We looked at the following:
The number of "long-hanging" items, such as skirts, dresses and pants.
The number of "short-hanging" items, such as shirts and blouses.
The number of shoes and boots.
We also looked at the amount of summer clothes as well as the purses and hats that needed to be stored. By knowing the number of inches needed for each of the different types of hanging items, as well as the number of shoes and the amount of clothing that needed to be in drawers, we had a good basis for starting the initial closet redesign.
Nancy had four shelves for her shoes. We knew this would be enough because we counted the number of pairs she usually wears. We also gave Nancy two shelves to hold her purses and hats as well as a shelf for her summer shorts and tank tops. Nancy placed her purses in baskets, which helped to contain them and gave the closet a cleaner look.
It's amazing how redesigning the space created additional space to bring more clothes into the closet. Although we eliminated a few things, we added more than we removed. And in the end, we even had an empty shelf on the top!
Tips for closet organization
About 80 percent of the clutter in your home is a result of disorganization, not lack of space.
If it doesn't make you look good or feel good — let it go, because it's just taking up space. You will always find something else.
Unsure of the last time you wore that blouse or those pants? Place all clothing on hangers in the opposite direction of how you normally hang items. After you wear the item, put it back on the hanger in your "normal" direction. After six months, you'll be able to assess what you have not worn.
If you don't have drawers in your closet, use baskets or plastic bins to help contain items such as hats, T-shirts, scarves, purses, etc. — anything you would rather not see just lying on an open shelf.
If you are going to install a new closet system, first decide whether you want pants to be hung at full-length, folded at half-length or folded and placed on a shelf. This can make a big difference in how you design the space.
Copyright Eliminate Chaos, reprinted with permission

New to Cozi? It's the simple way to manage your busy family life with a shared calendar and lists that you can access from any mobile device or computer. Sign up for Cozi. It's FREE!