10 Best Tips for Organizing Paper Clutter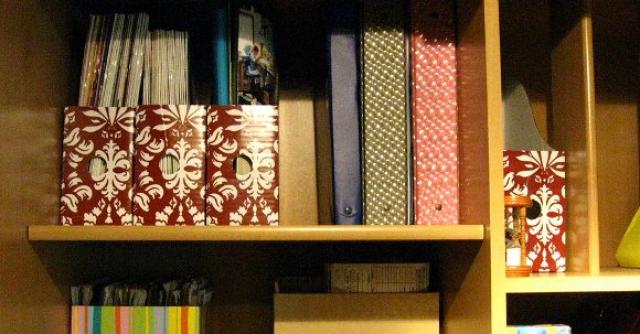 One of the most common complaints from families is of paper clutter. It can be in your kitchen or home office, but the piles of paper that stack up get messy and annoying. Important papers get lost and time is wasted searching for bills or documents, creating stress and frustration.
Clean up your paper by trying a few of these tips from Cozi readers who shared their tricks for reducing clutter.
Devise a color-coded filing system.
Choose a color for each member of the family and use a folder in that color to store papers. This way, when Sally needs her permission slip, you know it's in the purple folder.
Another idea is to use simple files that say "Today," "This Week," or "This Month" and organize papers accordingly. This method lets you to keep tabs on what needs to be done immediately and what can be put off for another day without it slipping through the cracks.
Use your mobile phone.
Take a photo of schedules, lunch menus for school, and other important information to keep it handy. This method keeps your desk and fridge clear!
Go paperless with electronic bills.
Most monthly bills can be paid electronically. All that's required is to go to the company's website and request this service. You can even arrange for automatic renewal for magazines this way, occasionally even scoring lower subscription rates!
Skip junk mail altogether.
Request to be removed from mailing lists. Simply send a letter with all possible spellings of your name, address and signature. Mail it to: Mail Preference Service / DMA ATTN: Dept. 9407644 P.O. Box 643 Carmel, NY 10512. Even faster? Call them at 212-768-7277.
Recycle paper clutter for good use.
If being green is your scene, then transform junk mail and school notices into useful items. Readers suggested recycling plain junk mail envelopes to reuse or for lists. Or, cut up notes and unimportant papers from school to create scrap paper. You not only reduce waste, but save money.
Consolidate with binders.
Binders keep bills, forms, and papers neatly sorted. Readers have binders in varying formats such as one per family member or per year, making it simple to locate documents as needed. Keeping the binders in a convenient location ensures proper and frequent use of this system.
Keep paper out of the way with an organization system.
Magazine racks or hanging organization systems eliminate the unsightly mess of papers strewn or stacked on counters and desks. Some readers go so far as to set aside a place in the pantry for organizational purposes to get it out of the kitchen entirely.
Make a date with paper.
Filing systems aren't for everyone, and even if they are, they still need to be maintained. Set aside a "Desk Day" once a week or twice a month to go through papers and keep things clean and organized. Put it on your calendar as a regular appointment to remind yourself that it needs to get done.
Make a plan for schoolwork.
Most parents struggle with this dilemma: What to do with all the artwork and schoolwork your child brings home? Try one of these tips to keep yourself from drowning in paintings and tests! Save one picture from your child's school each month and take pictures of the rest. One reader even makes photobooks of her child's art. Another scans the artwork and uses it to create greeting cards and stationary.
Use bins as a last resort.
If you still can't bring yourself to throw anything away, you can do what one reader suggested: Save everything from school in bins (one per child) and go through it once a year. As time passes, the sentiment has worn off, making it easier to throw items away.
photo courtesy of EvelynGiggles
What's your system for organizing the neverending stream of paper, bills and schoolwork?

New to Cozi? It's the simple way to manage your busy family life with a shared calendar and lists that you can access from any mobile device or computer. Sign up for Cozi. It's FREE!