Careers
Join the Cozi family.
Do you have a passion for helping make life easier for families? Want to work with a talented, collaborative team in downtown Seattle? We'd love to have you on board.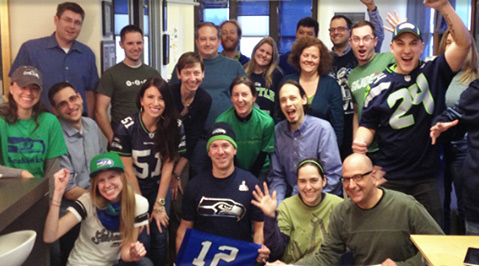 When you work at Cozi, you're part of a team that helps families communicate, stay organized, and enjoy what life has to offer.
Whether you're a seasoned developer who loves a run along Elliot Bay at lunchtime, a mom rejoining the workforce, or a recent graduate looking for real-world experience, you'll find our flexible work environment suited to your lifestyle needs. To us, it's a no-brainer. We've simply found that happy employees create a stellar business. Sounds downright revolutionary, doesn't it? Check out our job openings below.
Perks
There truly are benefits to working at Cozi. Oh, sure, we offer all the usual things, but when we say "benefits" we're really talking about something else. We're talking about all the things you won't find at other companies. Because at Cozi, bringing families closer together doesn't apply just to our products, but to our entire company culture.
A flexible work environment: enjoy Focus Fridays, when the whole office works wirelessly from home, cafes, libraries, or other places conducive to getting work done.
401(k) matching and a generous time off policy.
Free snacks, drinks, and specialty coffee.
Subsidized gym membership.
Bi-weekly swizzles (afternoon get-togethers) and Cozi family lunches (catered company lunches).
Health, dental, and vision insurance for you and your family; life insurance.
Compensation for commute expenses, no matter how you get here. We'll cover parking, bus passes, water taxi passes, ferry fare, or even bike storage and maintenance.
Our Location
Cozi is located in the historic Smith Tower in Seattle's Pioneer Square, mere steps from great shops and some of the best dining in town. Once the tallest building in Seattle, the Smith Tower now has a stylish retro feel, with brass plated elevators and great views.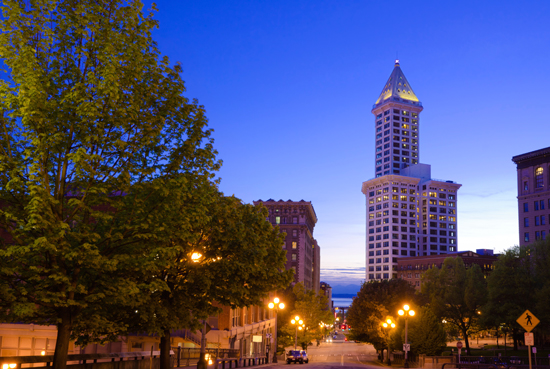 Location Highlights
Fantastic nearby cafes and restaurants include Mexican, Japanese, Thai, Italian, Mediterranean, Chinese, and BBQ restaurants.
Walking distance to CenturyLink Field, home stadium of the Seattle Seahawks and Seattle Sounders, and Safeco Field, home of the Seattle Mariners.
Steps away from the bus tunnel and light rail station linking all of downtown Seattle, and a few blocks away from a ferry terminal and water taxi stop.
A bike locker (and locker rooms) in the building.
And much more!
Cozi Office in Smith Tower
We hire exceptional people who demonstrate outrageous integrity and passion in everything they do.
We improve families' everyday lives through innovative product experiences.
We work at a sustainable pace fostering a balanced lifestyle for each individual.
We strive for relentless improvement in how we do things so that we exceed customers' expectations.
We take the long view as we build a profitable business.
Senior Marketing Manager
Cozi is a Seattle-based technology company committed to making modern family life easier. Our flagship product is Cozi Family Organizer, the leading family productivity app on the market.
We are looking for a motivated, resourceful, creative and results-driven Senior Marketing Manager to be a key player on a small marketing team. In this role, you'll contribute to the strategy, planning, and execution of programs that lead to Cozi awareness, customer acquisition and revenue.
Core Responsibilities:
Develop, monitor and optimize marketing campaigns that drive awareness of Cozi, acquisition of new Cozi families, and retention of all Cozi families

Provide hands-on, end-to-end management of campaigns and programs including conception and drafting of creative briefs, planning, execution and reporting

Analyze, test, and continually optimize marketing funnels, including campaign response, landing page conversion, and payment conversion

Collaborate with the rest of the team to develop and tell a unified story about the Cozi brand and the great value we bring to families

Identify and evaluate new opportunities to profitably acquire new Cozi families

Analyze data and communicate actionable results to the Cozi team

This role will support Cozi Family Organizer and has the potential to support other digital products in our portfolio, such as Cooking Light Diet.
Qualifications:
Strong attention to detail. You take ownership of your work.

You have a proven ability to meaningfully impact traffic, acquisition and conversion.

Analytical thinking comes naturally to you.

You have a positive attitude and are not afraid to navigate a sometimes ambiguous environment to get work done.

Preferred: experience using product analytics software, such as Mixpanel

Preferred: experience with HTML, design software, and copywriting a plus

Experience marketing mobile apps would be most excellent

Minimum 7 years in a marketing role

BA/BS in Marketing or related field
To apply, please submit your resume to [email protected].