Time-Saving Tips for Printing Holiday Card Address Labels from Cozi Contacts
Cozi Contacts makes it easy to print address labels for all your holiday cards, saving you a bunch of time, not to mention a cramped hand from all the writing. But before you sit down to organize your addresses in Cozi Contacts, read these tips so your labels turn out great.
If you enter a household name for a contact, it will be used on the address label.
For instance, enter "The Garcia Family," "Mr. and Mrs. Garcia," or "The Garcias" – whichever you want on the label – in the Household name field. To enter a household name, select a contact, click edit, and scroll to the bottom to find Household Details. Click the Choose a household drop down list and select New household.
If there is no household name entered for a contact, the address label will use "First name" + "Last name." And if none of those fields are entered, the address label will use the "Company" name.
The first-listed address will appear on the address label.
You may enter multiple addresses for a single contact. The mailing address you want on the label should be in the first-listed address for the contact.
Export only one contact from each household.
When you're ready to pick which contacts to export for your holiday card labels, choose one contact from each household. Otherwise, you will end up with more than one label for the same address. For instance, if your sister's household has these individual contacts:
Kerri James
Brent James
Jessica James
Ben James
… then enter a household name like "The James Family" and choose any one of the family members when exporting your label file.
Cozi Contacts is part of Cozi Gold, the premium version of Cozi. Test drive it free for 14 days!
Have fun getting your addresses organized! We know you'll enjoy getting those cards in the mailbox on time.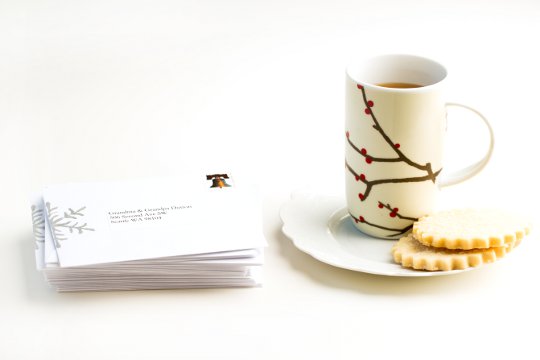 Get more details on creating mailing labels from Cozi Contacts.

New to Cozi? It's the simple way to manage your busy family life with a shared calendar and lists that you can access from any mobile device or computer. Sign up for Cozi. It's FREE!