New in Cozi Gold: Cozi Contacts
We've heard over and over from families who were asking us to add an address book to Cozi. It even ranks as the top-requested new feature area in customer feature surveys.
That's why we're super excited to announce the release of Cozi Contacts, a central address book to keep all your useful contacts in one place the whole family can see. Here's how Cozi Contacts is better than the native contacts list on your phone:
It's shared, so everyone in the family is looking at the same information. All the important contacts are in a single place, and when you make a change, the whole family sees the most up-to-date information.
It's a clean list with just the important contacts the family needs. Is your phone contacts list cluttered with duplicate entries for the same person, names you don't remember, or all your Facebook friends? Cozi Contacts is the simpler, better way to store contacts.
It's easy to categorize contacts into useful lists, like emergency contact numbers, doctors, dentists, sitters, neighbors, playdate buddies, team parents, scout troop, holiday cards list – whatever you need!
You can group contacts from the same household together. It's nice to see the whole family listed together, and it helps you remember names when you only know a parent or child well.
We made sure Cozi Contacts was the best way to manage the holiday card list, something that can be a chore to keep organized and up to date. Get all your addresses in a single list, use the "last updated" timestamp to signal out of date addresses and export the entire list at once. We will even send you a label-ready file to print! It's all part of the Get It Done! Holiday Card Guarantee.
And of course, Cozi Contacts has the same great look and feel as the rest of Cozi, and it's right there whenever and wherever you need it! It's the newest addition to Cozi Gold, the premium version of Cozi with no ads and premium features.
Important Notes about Cozi Contacts:
– Cozi Contacts is fully featured on the web version of Cozi. You can import contacts from computer files or email services, add individual contacts, edit, delete, categorize, and search.
– Use Cozi Contacts on your mobile app to import contacts from your phone, view imported contacts, and filter by category.
– Coming soon to mobile: edit, delete and categorize
Check out a demo of Cozi Contacts
See Cozi Contacts on the web and on the mobile apps.
Ready to start using Cozi Contacts? Upgrade to Cozi Gold (free 14-day trial to start!)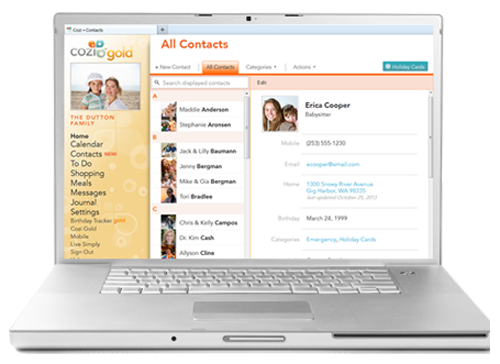 New to Cozi? It's the simple way to manage your busy family life with a shared calendar and lists that you can access from any mobile device or computer. Sign up for Cozi. It's FREE!