4 Ways to Add Calendar Appointments in Cozi
Adding appointments is the most common activity in Cozi, but you might not know about all the ways that exist to do it. It'll take just a moment to get them on your radar, so you and your family can become Cozi pros:
4 Ways to Add Appointments to Your Cozi Calendar:
Double-click on a calendar date (web)
Tap on a date header bar while in calendar Week View (mobile app)
Tap on the + in the upper right hand corner of your calendar screen (mobile app)
Enter your appointment in the natural language entry bar (web and mobile app)
A little about natural language entry:
The text box at top of the calendar (mobile app and web) is where you can type in an appointment using your own words. The appointment will be added, filling in the fields you've covered in your entry. This is a great way to get something on the calendar quickly – you can always go back later to add more details if needed like reminders. Here are some tips on what to type into the natural language entry: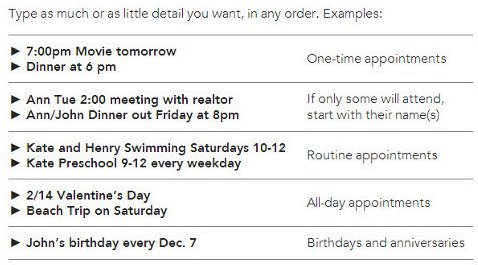 There you have it – all the options for getting an appointment on your Cozi calendar.

New to Cozi? It's the simple way to manage your busy family life with a shared calendar and lists that you can access from any mobile device or computer. Sign up for Cozi. It's FREE!