iOS 10: What's New for Cozi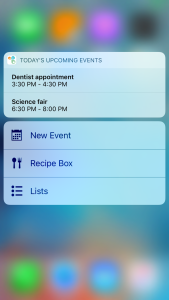 Today marks the release of Apple's iOS 10, and updated Cozi Widgets and notifications are now available—making it easier (and faster!) to view upcoming appointments in Cozi.
To take advantage of these new features, make sure you have the new Apple iOS 10 installed on your device. Next, add Cozi as a Widget to the Today section of your device's Notification Center, or simply use 3D Touch on the Cozi app icon to see your next two calendar events for today. If your device is earlier than the iPhone 6s, you can still use Cozi Widgets—giving you faster access to your calendar appointments.
Use 3D Touch to View Calendar Events
One of the greatest improvements to the new operating system is Apple's force sensing 3D Touch technology, which adds new capabilities to the Control Center shortcuts. This new feature will make it easier to access calendar information and events.
The new iOS 10 and 3D Touch features can run on a range of Apple devices, including the iPhone 6s, 6s Plus, 7, and 7 Plus. To try this new feature on your iPhone, press the Cozi app icon a little harder to see quick actions for creating new appointments, opening your shopping list or to-do list, and accessing your recipe box. Pressing on the Cozi icon will also give you access to the updated Cozi Widget, which you can on your device's Today screen.
Updated Widget
Even if you don't have a newer iPhone, every device with iOS 10 installed will have the ability to add the Cozi Widget in the Today screen.
Learn more about Apple iOS 10 and to explore all the new features.

Cozi Family Organizer is the must-have app for busy families - easy to use and free in the app store. You'll wonder how you managed your busy life before Cozi. Get Cozi today!