Cloud-first: The Amazon Echo Show with Alexa
By Will Friedman
Yesterday Amazon released the Amazon Echo Show, Amazon's first Alexa device with a built-in touch screen.
With the addition of a display, the Echo comes into its own. The screen allows for richer experiences for core applications like music (showing lyrics), communication (with video calls), and videos. And Amazon also announced a programming interface to allow new Skills to make use of the screen. We'll be looking at that closely.
Since the Echo is always plugged in, the screen is always on. Even when you are not using it, it shows upcoming calendar appointments, breaking news, tips, and other info. This concept may remind some of the pioneering PointCast Internet-connected screensaver. (In our early days, Cozi offered a PC-based photo screensaver that displayed upcoming appointments as well.)
It's easy to imagine that the Echo will eventually become a live digital picture frame with pictures from extended family and friends, though this version seems to be limited to one relatively static homescreen image.
But ultimately, what sets the Echo Show apart is not just the screen. It's certainly not the form-factor, which is squat bordering on awkward, nor the average-sounding speaker. It's not even just the "Alexa Voice Service."
No, what sets the Show apart from tablets is that it's cloud-first. After all, tablets have screens. They have voice assistants like Siri, which in many ways is competitive to Alexa. And in theory they are also always listening for a command, though your mileage may vary.
Consider that on setting up the Echo Show, which was pre-configured to my Amazon account out of the box, Alexa already:
Knew who I was
Had my favorite "Skills" enabled
Knew my commute
Was able to control my lights and my thermostat
Had my contacts list from my use of Alexa messaging
Already had my music
Knew my sports teams
Showed my upcoming appointments
This was all possible because Amazon has a cloud-based profile for every user, tied to their Amazon account. The list above doesn't even include powerful connections to Amazon owned cloud services, including Amazon Video, Audible, Kindle books, and of course shopping on Amazon.com.
(The one service that was decidedly awkward was interfacing with my Cozi calendar; Alexa needs a public interface to allow better integration with third-party calendars, starting with the iCalendar standard which Cozi supports.)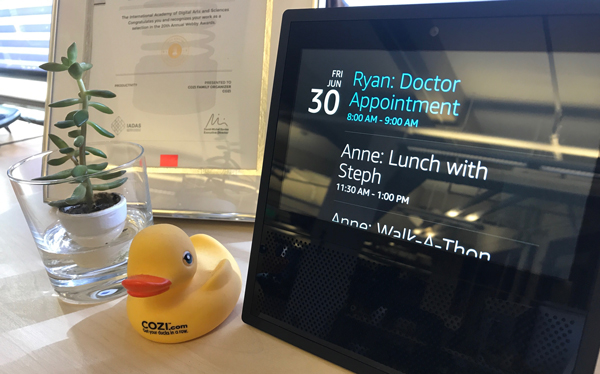 But those calendars will also come from the Cloud. Alexa's pitch to developers says:
Alexa is built in the cloud, so it is always getting smarter. The more customers use Alexa, the more she adapts to speech patterns, vocabulary, and personal preferences.
Having a cloud-first mentality means that Amazon can continuously update the Echo/Alexa family of devices and services with new capabilities and improvements. To compete, Apple will need to start updating Siri continuously rather than just with annual iOS updates.
Google, which is also a cloud-first company with enormous amounts of customer information, is well-positioned as they continue to invest in devices for the home.
With the initial momentum of Alexa-powered devices and the release of the Echo Show, it's clear that developers need to start looking seriously at the Alexa platform, and more broadly at voice-enabled cloud platforms from Apple and Google as programming interfaces become available.
Cozi started as a cloud-backed PC app, then embraced the Web, and was the first major app for families in the App Store. Keeping up with new technologies has been a reason for our growth as we approach 20 million family members on the Cozi Family Organizer.
We don't intend to stop now.
---
Will Friedman is the President of Cozi Inc, and the General Manager of the Cooking Light Diet. Follow him on Twitter at @coziwill, and follow Cozi at @cozifamily.

New to Cozi? It's the simple way to manage your busy family life with a shared calendar and lists that you can access from any mobile device or computer. Sign up for Cozi. It's FREE!