8 Contacts Categories That Will Boost Your Efficiency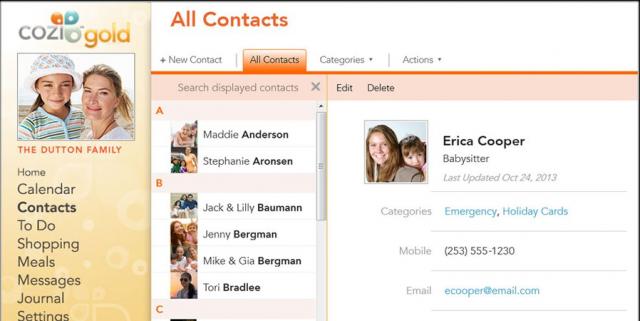 The category feature in Cozi Contacts makes it easy to organize your big list of phone numbers and addresses into smaller, useful groups. Go beyond emergency contacts, family, doctors and holiday cards: here are eight groups to add so you can rely on Contacts for much more.
Birthday Party Guest List
Keep the list of invitees in one place so it's easy to contact everyone about last minute party updates and track who got a thank you note.
Babysitters
If you use sitters frequently, this is a no-brainer. If you can't remember the last time you used a sitter, you probably forgot their names, too. Luckily, you put them in a category called Babysitters.
Restaurants
After four homemade meals in a week, a night off with take-out sounds good. And if you keep your list of go-to restaurants handy, anyone in the house can decide where to order from, then place the order. Now that's a night off.
Neighbors
You'll be happy you have the list next time you're out of town and need to know how your house weathered the windstorm. And if you've ever wanted to volunteer to be block watch captain or head up the block party, you'll be prepared.
Kids' Friends
Having the addresses and numbers of buddies and classmates helps when scheduling play dates and when you need last minute help with the carpool.
Team or Club Parents
With the info in Cozi Contacts, you won't need to bother sifting through endless email threads to gather the correct and current contact info for the whole group.
Household Services
Keep the business numbers for your phone, internet, electric, gas, water, trash, and other household services in one list. It's much nicer to look in Cozi for the info than your file cabinet.
Graduation Announcements
A graduating senior means a mass-mailing of the good news. Create a category with the addresses of all the people who should get the announcement to simplify the whole process.
Cozi Contacts is a feature of Cozi Gold, the premium, ad-free version of Cozi. Take a free 14-day test drive of Cozi Gold to see what it's all about.

New to Cozi? It's the simple way to manage your busy family life with a shared calendar and lists that you can access from any mobile device or computer. Sign up for Cozi. It's FREE!