Who Should Be on Your Emergency Contact List
An emergency contact list is one of those "just in case" items that's easy to put aside and forget about. But if the time comes when you need it, it's vital that the information is up to date.
Take a moment to store your emergency contact list in Cozi Contacts, a feature in Cozi Gold.The category Emergency is already there, and you'll be able to access the information when and where you need it. You can also export the list to make a print-out to keep at home.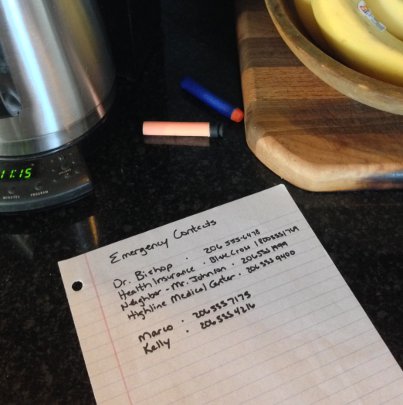 Who should be on your list? Anyone who you would want notified in case of an emergency, as well as anyone you might need to reach for assistance. Make sure you have work, school or caregiver contact information as well. Include those people who you might need to take on certain responsibilities, like picking up the kids from school. Stop and think about where your family is at all times of the day, and consider who those key point people might be.
While every family's list will be unique, here are some basic guidelines of who should be on your list:
Doctors for all family members – phone and address
Dentists for all family members – phone and address
Veterinarian for all pets – phone and address
Health insurance information – in addition to phone number, add the policy information and policy number to the Notes field (this makes it easy to find your info quickly during routine doctor's visits!)
Closest emergency room – phone and address
School or child care provider for each child – phone and address
Parent's contact information – home, work, cell numbers
Family/friends/neighbors – home, cell numbers
Household contacts, like babysitter/nanny, pet-sitter (You might keep these in a separate category as well)
Miscellaneous services, like water company, electric company, gas company, alarm company, locksmith, plumber, roadside assistance (You might keep these in a separate category as well)
TIP: Include important information for each family member in the Notes field of their own contact, like date of birth, height/weight, allergies, any medical conditions.
Another handy tip: Put ICE into your cell phone contacts. This stands for "In Case of Emergency." Enter your spouse or primary emergency contact number under the heading "ICE," and emergency responders will know who to contact if you are unable to tell them.
Cozi Contacts is the latest feature in Cozi Gold, the premium version of Cozi. Try it with a free 14-day trial.

New to Cozi? It's the simple way to manage your busy family life with a shared calendar and lists that you can access from any mobile device or computer. Sign up for Cozi. It's FREE!