Now You Can Import Your Google Calendar into Cozi
We have great news for Cozi users who would like to pull appointments from Google calendar into Cozi.Google Import is now available for all Cozi users!
When you import, the appointments on your Google calendar are copied over to Cozi where you can edit them fully, just like any other appointment in Cozi.
NOTE: This new feature is a great way to move an entire calendar to Cozi in order to manage the appointments in Cozi going forward. It is not, however, a full sync. The changes you make in Cozi won't be reflected in your Google calendar (and vice versa).
How to Import Your Google Calendar Into Cozi
It's as easy as 1-2-3. Find Google Import/Import from Google in Cozi, sign in to your Google account when prompted, select which calendars to import, select which family members should be assigned to the calendars, and import. That's it!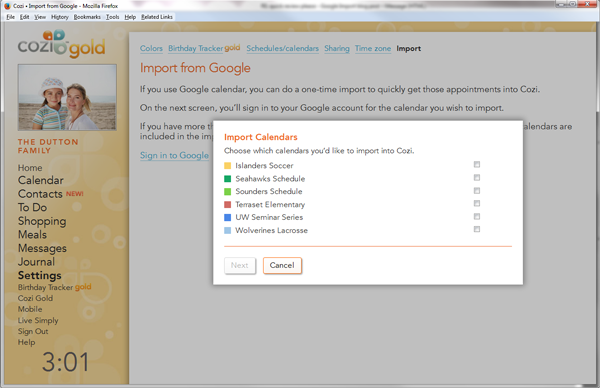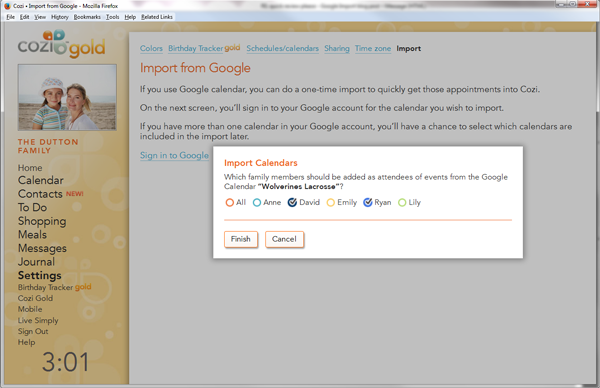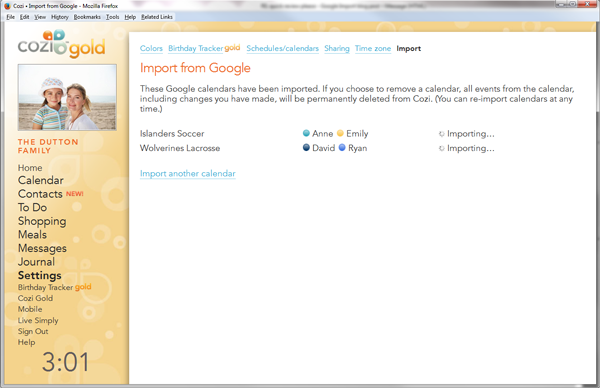 Ready to Import? 
On your Android device: Look for Google Import on your account home screen. Or, go toSettings > Import from Google calendars. (You can import a Google calendar from Android devices that use the Cozi app from Google Play.)
From your Cozi account on the web: Go to your calendar and then click Set up > Import from Google. Or click here to go to Google Import now.
This feature is currently not available on iOS devices, but anyone can import using Cozi on the web.
Have a friend who loves the idea of Cozi for organizing the family, but who has been waiting for Google Import? Good news! Importing a Google calendar is now a simple step when creating a new Cozi account. It's never been easier to get started with Cozi.

New to Cozi? It's the simple way to manage your busy family life with a shared calendar and lists that you can access from any mobile device or computer. Sign up for Cozi. It's FREE!