New in Cozi Gold: Month View for the Apps!
UPDATED with a video so you can see exactly how month view works:
Month view for the apps is finally here. (If you're a Cozi Gold subscriber, just update your app to see this new feature!)
We made it more than worth the wait with a design so unique, we've got a patent pending on it. What makes the Cozi calendar month view so mind-blowingly better?
You can scroll back and forth and up and down in month view. The weekend view even moves back and forth, so you can start the week with Sunday or Monday, depending on what works for you. (You've gotta see it to believe it!)
You can "pinch" the screen to zoom in or out on certain days or weeks. Holy wow! No one else has this zoom feature on a calender – and no one else can get it, because we've already filed for a patent on this awesome feature.
Take a look at what it looks like before and after "pinching." You start like this: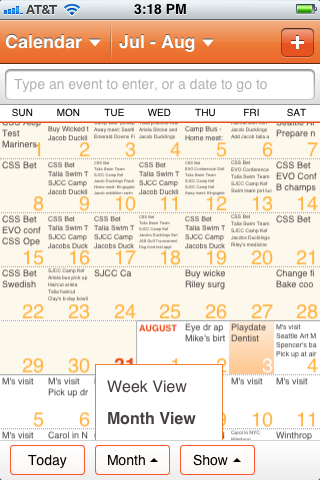 Then pinch the screen and zoom right in like this:
EVEN BETTER, you can scroll back and forth in the pinched view too! So no matter where you are, you can see what you need.
One last tip: You can press and hold on any day to pop up the contents of that day to see who is doing what in full detail. 
This fabulous month view feature in the mobile apps is just one more thing that makes Cozi Gold more than worth $19.99/year.
So sign up for Cozi Gold today and get
the new month view
multiple reminders
upgraded meal planning views
NO ads
and more!
To get it, just login to your Cozi account and click Gold on the left. And please let us know what you think of the new month view!

New to Cozi? It's the simple way to manage your busy family life with a shared calendar and lists that you can access from any mobile device or computer. Sign up for Cozi. It's FREE!