New in Cozi Gold: Meal Planner and Recipe Box on iPad!
Let's get cooking! The Cozi Meals feature is now available right from your Cozi iPad app. You can plan dinners, add recipe ingredients to your grocery list, and access recipes while cooking – all from one place: your Cozi iPad app.
If you are a Cozi Gold member, you'll find Cozi Meals in the left side navigation menu of your iPad app. Once you're in Meals, you'll see all your recipes and be able to drag and drop meals into your dinner plan. We hope this improvement makes daily dinner prep a little easier for you!
New – Cooking Mode!
When viewing your recipes, there is a cool new feature called Cooking Mode. Tapping Cooking Mode means the screen will stay on (not dim and turn off from inactivity) so you can prepare dinner without touching the screen with messy fingers!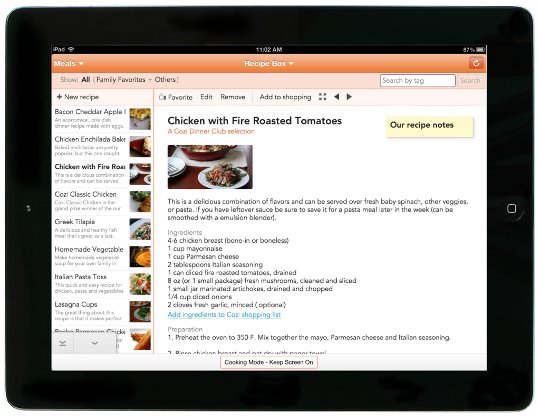 Drag and Drop to Plan Dinners
We know lots of you already use your iPad while cooking (50% of you use a tablet while cooking based on a recent question on Facebook!). And now the Meals features you know and love on the web are available from your iPad, like dragging and dropping recipes to your dinner plan.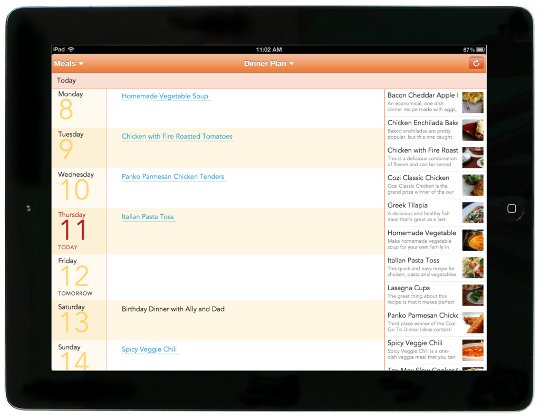 Important Notes
Meals on iPad is a Cozi Gold feature. If you'd like to have an ad-free Cozi experience and additional features like multiple reminders and mobile month view, check out Cozi Gold.
Cozi Meals works best in online mode – via Wi-Fi or a data plan. If you go to Meals while connected to Wi-Fi and then move to offline mode, you can still access most of your data, but it will not be synchronized with your Cozi account until you move back to a location with a data connection.
Cozi Meals is not yet available on Android tablets nor on the iOS and Android smartphone apps. We know you're waiting for these improvements, and are sorry we can't get all platforms done at the same time! Enjoy if you're an iPad owner, and let us know what you think.

New to Cozi? It's the simple way to manage your busy family life with a shared calendar and lists that you can access from any mobile device or computer. Sign up for Cozi. It's FREE!