How to Get Religious Holidays Added to Your Cozi Calendar
We know that lots of you would like to see religious dates and holidays on your calendar without having to add them by hand. An easy way to do that is to add an iCalendar of religious dates and holidays to Cozi.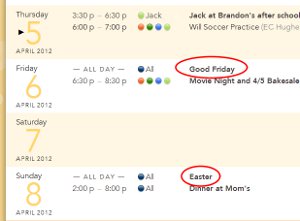 Here are a few religious holiday iCalendars we found that you can download right now. Just click on the link and you'll be taken to your Cozi account. Select which family members you'd like to have the iCalendar and you're all set!
And if you happen to use another iCalendar for religious holidays, please share it with the Cozi community by leaving a comment that includes the iCalendar URL.
Christian Holidays
Here is a basic Christian holidays calendar: Add the Christian Holidays iCalendar to your Cozi calendar.
Another choice for Christian holidays is this very detailed calendar that includes holidays (Lutheran in persuasion), information about church leaders, dates in Christian history, and more. So much is covered that you'll see dates on your calendar each week. A great educational iCalendar!: Add the Lutheran Church Year iCalendar to your Cozi calendar.
Jewish Holidays
Hebcal is a generic Jewish hoildays calendar.: Add the Jewish Holidays iCalendar to your Cozi calendar.
For custom options including candle-lighting times, rosh chodesh, Hebrew/English and more, go to hebcal.com and choose what you want. Then copy the iCalendar link and paste into the Internet Calendars page in Cozi.
Muslim Holidays
This Muslim holiday calendar includes significant events on the Islamic calendar and a descriptive note about each: Add the Islamic Calendar iCalendar to your Cozi calendar.
Add other iCalendars to Cozi
If you find an iCal on your own that you'd like to use, here is a quick demonstration of how to do add it to Cozi:

New to Cozi? It's the simple way to manage your busy family life with a shared calendar and lists that you can access from any mobile device or computer. Sign up for Cozi. It's FREE!