Artkive: A Simple New Way to Store and Enjoy Your Kids' Art + Giveaway!
Here at Cozi, we're always on the lookout for new technology that simplifies family life. Of course the Cozi apps take care of getting your schedules, lists and meals in order, but we'll share new apps and services from others that can help out the family in other fabulous ways. Today's app recommendation is Artkive:

Have you ever stored a whole year's worth of kids' artwork in a memory bin, never to look at it again? Or, in a flash of desperation to get the kitchen counters cleared, guiltily thrown an entire pile of it away?
You've probably heard the tip to take pictures of the art so you can enjoy it forever clutter-free, but that would require an organized system of computer folders to store them (and you'll get to that right after you've cataloged all your vacation pics by trip and season, right?).
If you'd like a sleek and simple new way to get your kids' artwork and creations organized without any hassle, then check out Artkive. Now's the perfect time to get started with Artkive since the end-of-year art pile is probably stacked somewhere at your house right now.
Here's how Artkive works:
Create an account and add the first names and grades of your children
Take photos of their artwork or upload from your camera roll
Tag your photo with the child's name, grade, date, and title
Share with family and friends or turn your Artkive into a beautiful hardcover book
That's it! The great part is that everything is automatically saved in one place so you can access it at anytime, share it with the grandparents, aunts and uncles, or just reminisce with the kids about what they created when they were "little."
Special offer from Artkive for Cozi families!
Thank you to everyone who participated in the offer from Artkive. The contest is now closed – we enjoyed hearing about your favorite kids' art!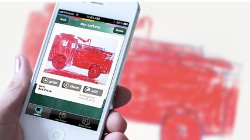 Artkive is graciously giving away THREE $50 credits for books made via their app. To enter, just do these two things:
Install the free Artkive app:
Get Artkive for iOS 
Leave a comment telling us about an all-time favorite piece of art that your kids made – the abstract painting that hangs framed on your living room wall, the cartoon that made you genuinely laugh, or even the first hand-print turkey. (When you leave a comment, click "Post as…" and enter a valid email address where we can contact you if you win.)
That's it! Offer ends July 15th. Good luck!

New to Cozi? It's the simple way to manage your busy family life with a shared calendar and lists that you can access from any mobile device or computer. Sign up for Cozi. It's FREE!