6 Cozi Hacks to Be More Efficient for Back to School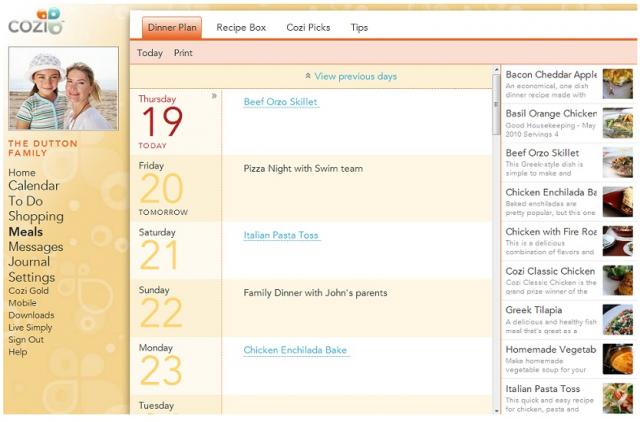 The Cozi mobile apps are great for on-the-go and daily use, but if you've never checked out the web version of Cozi, here's what you're missing:
1. Add a school calendar.
Did you know that Cozi has thousands of school calendars pre-loaded? If your school is one of them, all you have to do is pick the right one and add it to your calendar Here are the instructions on how to look up your school and add the calendar right in to Cozi 
2. Use the scheduler.
The Cozi mobile app is great for adding individual appointments when you are out and about, but when it's time to add in a full schedule (Boy Scouts, soccer, orchestra) the Cozi Schedule feature is ideal. It allows you to quickly add, manage, edit and view a group of related appointments all in one place, and once everything is loaded, you'll see the schedule as part of your regular calendar right in the mobile apps. Watch a demo of the Scheduler.
3. Plan meals and store recipes.
Figuring out what to make for dinner can be a pain, so the Cozi Meal planner is designed to make it as easy as possible – even for the busiest families. The Cozi Meal planner lets you save recipes you find anywhere on the web in one central place, and turn them into Meal plans that make figuring out what's for dinner a whole lot easier. This screencast shows how the Meal Planner works.
Right now, the Meal Planner can only be accessed from the web version of Cozi, but with Cozi Gold you cansee your Meal Plan right in your calendar.
4. Add an internet calendar for sports teams, religious holidays and more.
Want to add a calendar from somewhere else right into your schedule? Cozi allows you to import most internet calendars into your family calendar, which means you can add everything from a pro sports team schedule to a feed of religious holidays, and Google calendar feeds work, too. This quick screencast shows you how.
5. Download lists from the Cozi list library.
The Cozi online list library has everything from morning checklists for kids to Jamie Oliver's suggested pantry shopping lists. Add any of the lists to your Cozi account with just one click, then edit and customize them to suit your family.
6. Get recipes, shopping lists, and calendars.
Cozi's editor extraordinaire packs everything you need to stay organized, sane and on track into Cozi's content site, Live Simply. Stop by regularly to find downloadable lists, recipes, and even calendars of upcoming movie releases. Live Simply will make your life easier, because everything in it can be added to your Cozi organizer – so you'll never forget where you put it.
Have questions about using Cozi for back to school? Leave them in the comments!

New to Cozi? It's the simple way to manage your busy family life with a shared calendar and lists that you can access from any mobile device or computer. Sign up for Cozi. It's FREE!